CloudStack Collaboration Conference Europe 2014 #ccceu
You might have heard of OpenStack as an industry consortium/community in the cloud computing marketplace – but then there is CloudStack.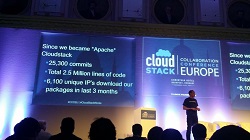 This is a community 'overwhelmingly' made up of users, rather than vendors.
Often described as one of the best kept secrets in cloud, CloudStack is in fact big in Japan — but the interest is growing elsewhere too.
The CloudStack Collaboration Conference Europe 2014 was staged this week in Budapest.
Since it became Apache CloudStack, the community argues that its numbers are looking positive:
There are over 300 'known' clouds in production.
There are 25,300 code commits
There are a total of 2.5 million lines of code
there were a total of 6,100 unique IP downloads of CloudStack packages in the last three months
It is always interesting to attend a 'real' technology conference i.e. there are vendors here, but there are no vendor-driven agendas – this event is about community and the needs of real software application developers, software/cloud architects and practitioners at every level.
The community IS the roadmap
There is no roadmap, there is only community. That's not strictly true as there are plans for the immediate future, but the community dictates where CloudStack goes next and this a key defining characteristic for a true open source project said Hugo Trippaers (@spark404 Schuberg Philis & VP, Apache CloudStack) in his 'State of the Union' address.
Trippaers has confirmed that the community is now focused on more static code analysis to make the current 400,000 lines of code work better – Coverity tools are being used to execute this process.
#CloudStackWorks
There are bugs in the code, Trippaers and the team are open about this fact… but the software works and, crucially, the developers are aware of the number and weight of the bugs that do exist, so working around these issues to progress towards a more honed and refined technology proposition is a continual task.