Cisco: the (software-defined) network is the computer
Cisco has been particularly vocal of late with regard to the impact of intelligent software application management of networks, especially in regard to its work with the OpenFlow protocol.
The OpenFlow protocol falls into the category of Software-Defined Networking (SDN).
What is of Software-Defined Networking (SDN)?
SDN promises to elevate the management of the company network above the physical structure of machines and instead focus on actual behaviour of traffic flows so that (via a layer of software programmability) the network can be managed as a whole entity rather than a collection of individual machines.
OpenFlow and its part in the growing SDN ecosphere started out life as a Stanford University research project in 2008.
Reports suggest that Cisco now employs an element of OpenFlow in its broader strategy to bring software programmability intelligence to the network stack — but this is not the whole story.
Indeed, on the road to the (software-defined) network, Cisco will also seek to bring additional programmability intelligence to existing networks by opening up IOS and NX-OS for third-party development.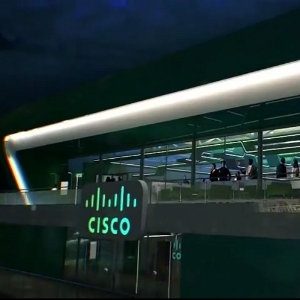 NOTE: IOS (not to be confused with Apple's iOS) is the firm's Internet Operating System software used in most of its routers and network switches. NX-OS is a network operating system designed by Cisco for its Nexus-series Ethernet switches and fibre channel storage.
So is it all plain sailing? Not necessarily…
Writing on TechTarget's SearchNetworking executive editor Rivka Gewirtz Little suggests that OpenFlow stalwarts have insisted that proprietary software-defined networking (SDN) methods will "hamper the evolution" of an innovative open-source network application development community.
"OpenFlow can do more than centralise the control plane of the network for granular management. Third-party developers can create applications, such as orchestration, security and mobility management, which can work on any OpenFlow-based network regardless of vendor," writes Gewirtz Little.
Cisco for its part is probably playing a careful game here i.e. the company wants to be seen to promote open standards to a degree, but of course the bulk of its cash cow comes from what is indeed a more proprietary base of networking technologies.
The company is a member of the Open Networking Foundation (ONF) and also acts as in a technical advisory role to the board overseeing the onward development of the OpenFlow standard. But with a large installed base of its equipment out there already, clearly nobody wants to see a wide-scale network rip-and-replace strategy initiated.
TechTarget's Gewirtz Little suggests that Cisco will now more likely pursue a multi-prong approach where virtual and physical networks are interwoven so that the "intelligence" rests in the switches that reside inside the network itself. In this scenario, data can still be collected and analysed for policy management decisions.
Directly at Cisco, the company's David Ward comments as follows:
"Once you take that step back and can separate "game-changing" from the "industry-shifting" movements, you can fundamentally break down why we believe that SDN is a piece of a larger puzzle. Software Defined Networks are a great game-changer likely to help many companies provide new services — it is definitely something we see as beneficial and are working on. However, when I dig into what we're truly working on and the ripples that we (and a few of our customers) think this will have, we see market evolution. Something that affects not only how people build technology or products or scale and operate them, but something that makes people look at their business differently."
Or as Cisco CTO Padmasree Warrior puts it, "Not all customers want programmability. It's a very small subset that wants programmability. A lot of our customers are happy to leave everything to us to allow them to be programmed. So we have to be careful that we don't equate software-defined networking with only one aspect of it."
The network, many are saying, is experiencing a sea change.