Appery to developers: happy xmas, the HTML5 vs. native (war is over), if you want it
Appery is a company known for Appery.io, a 'low-code' platform for cross-device software application development.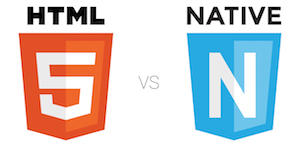 The firm has worked with open source SDK maker Ionic.
The two are claiming to have 'put an end' to the native platform vs. web-centric HTML5/hybrid app debate.
It is true to say that for years, developers had to make a choice when creating enterprise mobile apps — and for that matter many consumer-level apps:
• OPTION 1: Build a web-facing HTML5/hybrid app that users will need to essentially access though their browser so that it will work across all platforms (iOS, Android, Windows) and therefore, on all device types also, but compromise on user experience.
• OPTION 2: Or be willing to spend the money and time it takes to invest in native apps, one for each platform to get the most dynamic experience.
But we've heard too many 'write once, run anywhere' claims before; surely these firms haven't stumbled upon the real Holy Grail of code?
— and in a so-called 'low code' format that lowers the skill barrier, enabling a broader base of developers to create mobile apps?
Appery announced the integration of the Ionic SDK to enable developers to build hybrid mobile apps with the same user experience of a native application.
This connection will "obviate the need" to build fully native apps in the enterprise, they say.
Native apps generally provide a more dynamic experience unique to the device and operating system, but are expensive and take more time to build for each platform.
"Appery.io, with its support for Apache Cordova (i.e. PhoneGap), Bootstrap, AngularJS, and jQuery Mobile was already great for building hybrid and responsive web apps quickly and easily," said the company, in a press statement.
Ionic is an open source SDK that supports a broad range of common mobile components, smooth animations and designs.
CEO of Appery Fima Katz claims that Appery.io simplifies integration with cloud services and enterprise systems, combining the simplicity of visual development with the power of JavaScript, to create cross-platform enterprise apps.
CWDN opinion
While 'low code' platforms are often thought to enjoy a lower level of serious interest from the hardcore developer community (yes, even in the face of a popularised visual based coding practices), Appery.io's ability to use Apache Cordova and provide access to more native device capabilities is good news, as is the firm's total combination of software application development tools, backend services (there are plug ins too) and its ability to bring forward template (or you could say 'predefined') integration options with other third party services. Did we mention visual data binding too? No – ok, well that's in there too. The SDK integration here with Ionic may not quite be the one-for-all programming panacea that it is being positioned to be, but Salesforce is a fan and this company is growing in stature. If it can reign in the big claims and keep its code base stable, things could stay interesting.
Image credit: Movista