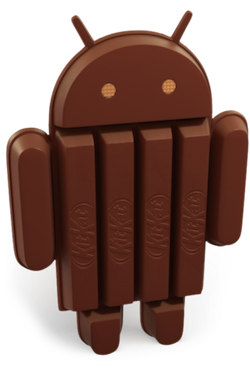 The next version of the open source Android mobile operating system from Google has been named KitKat.
Now powering what is estimated to be more than 1 billion of the planet's smartphones and tablets, Android 4.4 had previously been rumoured to be named Key Lime Pie.
According to website details at www.android.com/kitkat/, "Each Android version is named after a dessert: Cupcake, Donut, Eclair, Froyo, Gingerbread, Honeycomb, Ice Cream Sandwich, and Jelly Bean. As everybody finds it difficult to stay away from chocolate we decided to name the next version of Android after one of our favorite chocolate treats, Kitkat®!"
Whereas Google has, until now, chosen generic dessert names that one might make at home in the kitchen for the most part — this is the first time the operating system has been named after a branded candy product.
Swiss KitKat maker Nestlé is not thought to be profiting or paying for this brand association.
That being said, the BBC reports that Nestle plans to sell more than 50 million chocolate bars featuring the Android mascot.
What next… Android Snickers?
Android Curly Wurly … Android Finger of Fudge?
Heaven save us…