Android 4.2 Jelly Bean arrives
Google has released the source code for the next version of Android. The open source operating system's next iteration will be known as Android Jelly Bean 4.2.
NOTE: Jelly Bean comes in alphabetical order in the Android family of naming convention which has previously seen versions named Cupcake, Donut, Eclair, Froyo, Gingerbread, Honeycomb and Ice Cream Sandwich.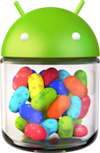 Android 4.1 Jelly Bean has been with us since June of this year, but the 4.2 version release was slightly delayed due to hurricane Sandy in the US.
The first smartphones users can experience Android 4.2 on are the LG's Nexus 4 and Samsung's Nexus 10.
Android 4.2 boasts improved performance for its Renderscript 3D graphics API and better internationalisation support. There are also more powerful options to be able to customise the widgets that appear on a device's locked screen display.
Samsung's Nexus 10 will feature a new multi-user mode that will allow several users to share identities on the same device.
New typing and camera behaviour options are also featured.
According to the Android.com 'what's new' pages, "Android 4.2 allows devices to enable wireless display. You can share movies, YouTube videos, and anything that's on your screen on an HDTV. Just connect a wireless display adapter to any HDMI-enabled TV to mirror what's on your screen quickly and easily."