Amazon launches Android app store in China
Reuters reports news this week of Amazon.com launching an Android application store in China offering "paid" and free applications.
With this move Amazon effectively beats Google (whose store only offers free open source apps) in terms of the amount of digital content it offers to what is indisputably the world's largest mobile phone market.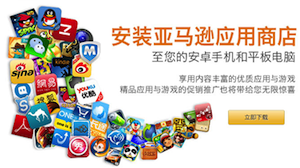 Amazon has already operated its Kindle e-book store in China since December 2012.
Amazon China spokesman Billy Huang has highlighted the fact that the Chinese app market is filled with hundreds of local domestic alternatives offering both free and paid alternative — but that some of these are sources of pirated software.
Huang confirmed that Amazon is working with (local and international) software application developers to expand the number of apps on offer.
China's is estimated to boast a 169 billion Yuan (£17.5 billion) business-to-consumer e-commerce market.
Reuters says that Amazon China cornered less than three percent of this market.
According to Reuters' Melanie Lee, "The launch of the app store and the Kindle e-book store in China paves the way for Amazon to offer a range of devices including the standard Kindle e-reader and the Kindle Fire."