3D BlackBerry games to span Android & Apple iOS
In the shadow of dark industry mutterings relating to the firm's wider position in the mobile device market, there are healthy sections of the RIM technology stack garnering interest from developers and users alike.
RIM (Research In Motion) has not long launched the Gameplay open source cross-platform C+ 3D engine aimed at independent developers.
Built with true cross platform support, this platform offering is intended to allow users to get the same experiences available on Android and iOS devices, but on the BlackBerry platform…
… actually, it's the other way around. These are BlackBerry games that will be supported on other platforms.
Platforms supported
o BlackBerry Tablet OS 2.0 and BlackBerry 10 ready!
o Apple iOS 5.1 for iPhone and iPad
o Google Android 2.3+
o Microsoft Windows 7
o Apple MacOSX
Essentially this is RIM saying that it has listened to developers and produced a 3D game engine with "code once and deploy everywhere" functionality.
Gameplay is available on Github, the open source web based code repository and revision control hosting service.
BlackBerry Developer Blog blogger Sean Paul Taylor says that his vision and goal with Gameplay is to contribute and share outwardly his firm's "expert knowledge" of advanced graphics and game technologies.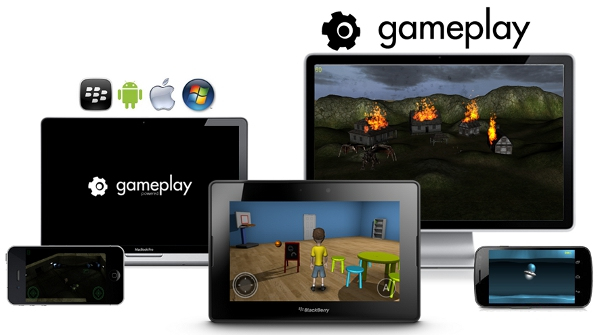 "The gameplay project is a contribution that is directly targeting the indie game developer ecosystem. We realise developers want to easily target as many platforms as they can to monetise and we want to help you do this… If you are familiar with other popular open-source 2D game engines like cocos2d-x and now want a high-quality 3D solution, then gameplay might be exactly what you are looking for," writes Taylor.
Features include an extensible animation system and a complete 3D audio system with additional support for compressed audio using OGG and supporting HDMI gaming.