Hyperoptic 1 gigabit broadband, a user perspective
In this guest blog post Computer Weekly blogger Adrian Bridgwater tries out a new 1 Gbps broadband service.
In light of the government's push to extend "superfast" broadband to every part of the UK by 2015, UK councils have reportedly been given £530m to help establish connections in more rural regions as inner city connectivity continues to progress towards the Broadband Delivery UK targets.
Interestingly, telecoms regulatory body Ofcom has defined "superfast" broadband as connection speeds of greater than 24 Mbps. But making what might be a quantum leap in this space is Hyperoptic Ltd, a new ISP with an unashamedly biased initial focus on London's "multiple-occupancy dwellings" as target market for its 1-gigabit per second fibre-based connectivity.
Hyperoptic's premium 1 gig service is charged at £50 per month, although a more modest 100 Mbps connectivity is also offered £25 per month. Lip service is also paid to a 20 Mbps at £12.50 per month contract for customers on a budget who are happy to sit just below the defined "superfast" broadband cloud base.
Hyperoptic's managing director Dana Pressman Tobak has said that there is a preconception that fibre optic is expensive and therefore cannot be made available to consumers. "At the same time, the UK is effectively lagging in our rate of fibre broadband adoption, holding us back in so many ways — from an economic and social perspective. Our pricing shows that the power of tomorrow can be delivered at a competitive and affordable rate," she said.
Cheaper than both Virgin and BT's comparable services, Hyperoptic's London-based service and support crew give the company an almost cottage industry feel, making personal visits to properties to oversee installations as they do.
While this may be a far cry from Indian and South African based call centres, the service is not without its teething symptoms and new physical cabling within resident's properties is a necessity for those who want to connect.
Upon installation users will need to decide on the location of their new router, which may be near their front door if cabling has only been extended just inside the property. This will then logically mean that home connection will be dependent on a WiFi connection, which, at best, will offer no more than 70 Mbps as is dictated by the upper limit of the 802.11n wireless protocol.
Sharing the juice out
It is as this point that users might consider a gigabit powerline communications option to send the broadband juice around a home (or business for that matter) premises using the electric power transmission lines already hard wired into a home or apartment building.
Gigabit by name is not necessarily gigabit by nature in this instance unfortunately, despite this word featuring in many of these products' names, which is derived from the 10/100/1000 Mbps Ethernet port that they have inside.
If you buy a 1 gigabit powerline adapter today you'll probably notice the number 500 used somewhere in the product name – and this is the crucial number to be aware of here as this is a total made up of both upload and download speeds added together i.e. 250 Mbps is all you can realise from the total 1 gigabit you have installed at this stage via the powerline route.
Our tests show uplink and downlink speeds of roughly 180 Mbps were achieved in both directions using a new iMac running Apple Max OS X Lion. Similar results were replicated on a PC running Windows 7 64-bit version.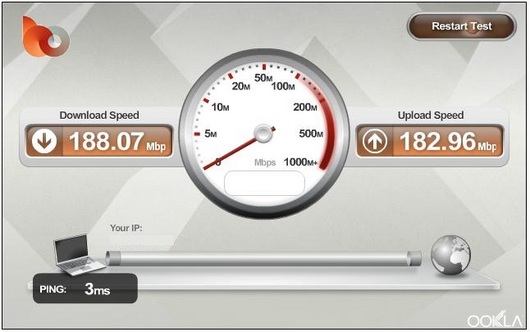 The above image shows a wireless connection test while the below image shows a hard wired connection.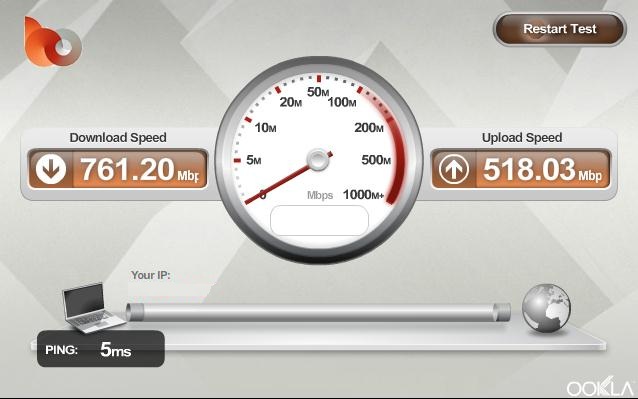 These criticisms being levied, powerline manufacturers will no doubt expand their product lines to accommodate for speeds and standards which are the edge of this market's current delivery capabilities. Further to this, Hyperoptic's 180 Mbps via powerline is only a fraction of what you can experience if your cabling geography allows it — and it is over seven times faster than Ofcom's "superfast" 24 Mbps target.
Hyperoptic's service also includes an option to port your existing phone line over to its lines, which takes between two to three weeks. The company asserts that it is capable of transferring your old phone number over to its service or supplying you with a new one, the former option taking slightly longer but at no extra cost.
So in summary
It would appear that some of Hyperoptic's technology is almost before its time, in a good way. After all, future proofing is no bad thing house design architects looking to place new cable structures in 'new build' properties and indeed website owners themselves are arguably almost not quite ready yet for 1 gigabit broadband.
As the landscape for broadband ancillary services and high performing transactions-based and/or HTML5-enriched websites now matures we may witness a "coming together" of these technologies. Hyperoptic says it will focus next on other cities outside of the London periphery and so the government's total programme may yet stay on track.