IT leaders: help build Bletchley Park
p.p1 {margin: 0.0px 0.0px 0.0px 0.0px; font: 8.5px Arial; color: #333333} p.p2 {margin: 0.0px 0.0px 0.0px 0.0px; font: 8.5px Arial; color: #333333; min-height: 10.0px} span.s1 {text-decoration: underline ; color: #0019e7} span.s2 {color: #0019e7} span.s3 {color: #000000}

Download this free guide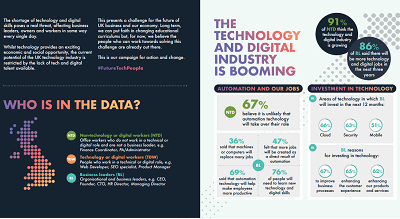 Infographic: How to future-proof UK technology
There is no doubt that the technology industry is booming right now, bringing with it exciting social and economic opportunities. However, there is a real fear that the UK industry may be stunted due to the lack of talent available. This e-guide helps to break down the future fears and expectations of dozens of business leaders and tech workers.
This is a guest post by Dr Sue Black, organiser of the Saving Bletchley Park campaign. See Sue's full details at the end of this post.
Have you been to Bletchley Park? You know, the place where the codebreakers, including Alan Turing, worked round the clock as part of a ten thousand strong workforce cracking codes? Of course you do. It's the birthplace of the computer: Colossus, the first programmable digital computer, was used there as part of the code-breaking effort.
I'm sure you also know that the work carried out there by those dedicated individuals shortened World War Two by two years, potentially saving 22 million lives. Twenty two million. Hardly bears thinking about does it?
What on earth would our lives be like today if it weren't for those dedicated individuals, more than 50% of whom were women? Actually, don't answer that, I really don't want to think about it.
I had my first tour of Bletchley Park in July 2008. It is a 26-acre site, so there is plenty to see. The tour was led by someone who had worked there during the war, a veteran, who is still working there as a volunteer, 66 years later.
As we stood in front of hut 6, the iconic dilapidated hut covered with a blue tarpaulin, he described the major code-breaking achievements that had taken place in that very hut. Achievements that saved millions of lives. Millions. Of. Lives.
I got annoyed and upset, then angry and thought to myself, "What would happen if this hut was in another country – the US, for example? Would it be in the state it is now? I think not."
I decided there and then that I had to do something about it. I started a campaign called "Saving Bletchley Park", which has taken over the last three years of my life.
When I first met the director at Bletchley Park in June 2008 he told me that he was worried that the Park was going to have to close due to lack of funds. Last month when I was at Bletchley Park to welcome the arrival of the Turing papers he mentioned that he was no longer worried about having to close. Bletchley Park is saved. Phew!
But, that's not the end of my campaign. Bletchley Park still needs a massive injection of funds. It will not close, but still needs millions of pounds to carry out restoration, renovation and much more to ensure that it is both a fitting memorial to the people that worked there and a 21st century museum that we can be proud of.
That's where you come in. Building Bletchley Park for the 21st century. Can you help? You could ask your company to become a corporate sponsor or organize a company outing to Bletchley Park, only £10 for an annual pass. A bargain. Have you been to Bletchley Park?
Dr Sue Black is a Senior Research Associate with the Software Systems Engineering group at University College London and a Senior Consultant with Cornerstone Global Associates. With more than 40 publications and a PhD in software engineering, Sue is well known for her online and offline activism around women in tech and saving Bletchley Park, most recently helping to secure the Turing papers for Bletchley Park.
For more details please see www.sueblack.co.uk and drblack.posterous.com or get in touch with her via Twitter: @Dr_Black.