World Cup IT blogger counts the milliseconds
This is the third of a series of blog posts from Dilbagh Gill who is head of Sports at Mahindra Satyam.
He has the enviable task of making sure the event management software, that Mahindra Satyam has built for FIFA for the 2010 World Cup finals, runs smoothly. Dilbagh has agreed to blog from the event during the competition, which begins this month.
Here he describes the pressure on the IT workers behind the scenes at one of the greatest sporting events on earth.
See his first and second blog posts.
Also see Dilbagh in an interview with Computer Weekly here.
Dilbagh Gill World Cup IT blog part 3:
"Our Uniforms have not arrived.
As I sit down to write this blog, per the countdown clock on our Mahindra Satyam website, www.mahindrasatyam.com, (which measures in milliseconds – why?) we have around 2 days 12 hours 59 minutes 44 secs and XXX milliseconds to go.
So where are we now?
Well our uniform kits have not arrived yet in Johannesburg. They are sitting at some airport somewhere with no traceability. Yes, they left the vendors a few weeks -we have confirmation of that.
This made me think – how can we help the courier industry? And as an extension – how do I kit out my guys?
Logistics is always complicated in our daily lives and you have to believe me when I say it's a 100000X (resembles a US stimulus figure) larger challenge moving material and equipment to the various venues. Part of our brief for this project has been to very accurately deploy a billion dollar of assets in the last few weeks and have 100% record of what is where. We did have our challenges though. But most of them were physical ones. Lifting multi-function printers up three flights of stairs is not so much fun. My wife would have been really pleased if I did more of that as she thinks I need the exercise. My claim always has been "I am not over weight – I am under height".
Mahindra Satyam has implemented a unique solution to identify and track all equipment being deployed – we have been able to introduce to the World Cup a lot of automation for example in terms of how equipment receipt and return is electronically captured. Venue Managers have really appreciated this as it has reduced their workload enabling them to focus on more critical activities. It is these smaller details, where we have to use our traditional IT knowledge in a non-traditional environment which demonstrates the value we provide.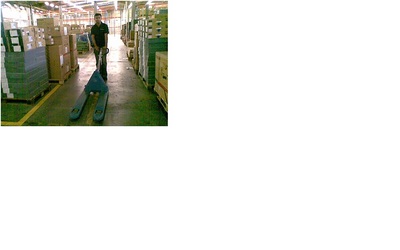 We have completed around 80,000 accreditations so far – nearly 1/3 there – this has been going quite smoothly. I got my accreditation on Friday. Was happy to note the process went smoothly -tested first hand our system and was assured that it works as designed. Below is a picture of the accreditation badge on which I will blog another day.
With the volunteer who printed the badge. I am now officially allowed to go everywhere.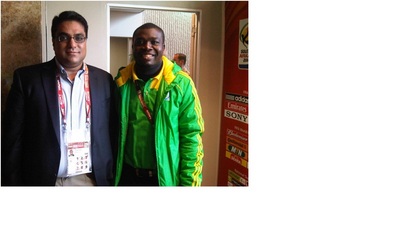 Last evening we visited Soccer City Stadium to review the LED signage boards with our logos that will be aired during the games. Felt good to see Mahindra Satyam lit up in both the day and night versions of the logo. Learnt a lot about pixels and various fonts etc – every day is a new day.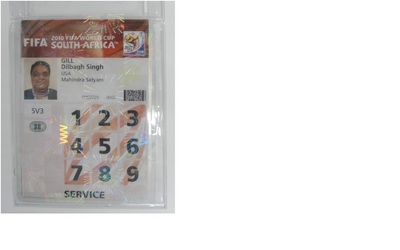 Picture here. – One of our ace engineers.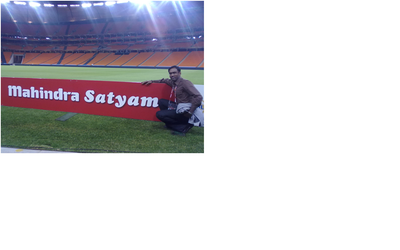 While we were there we could see the final preparations happening at Soccer City. The place is just looking awesome. There is a test game there today to do some final rehearsals.
Well it is now 2 Days 11 hours 20 Minutes 15 Seconds and XXX Milliseconds now – I did have to step out for some time in between – no panic.