Why is government proposing reclassifying 440,000 UK IT professionals as creative professionals?
An inside outsourcing reader sent me an interesting email this week. He brought to my attention something that e-kills UK had published regarding a proposal from the Department of Culture Media and (Sport DCMS) to classify IT professions as creative.
This will have an impact on the IT industry because it will be much smaller and less important to the UK economy. As a result it might not receive the high level of government attention it deserves.
There are some bizarre proposals. For example 239,000 programmers and software development professionals would be reclassified as creative professionals rather than IT professionals. That's 21% of the total UK IT profession. A total of 95,000 IT business analysts, architects and systems designers will also become creative professionals. And 53,000 IT & Telecoms directors will become creative professionals while their staff will remain IT workers.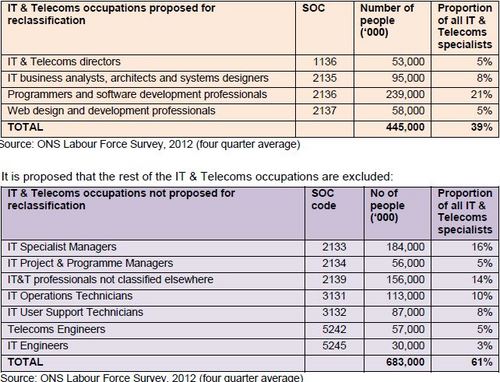 If you want to give your views before the consultation closes on 14 June click here and add your comments.
I would like to hear your thoughts so feel free to leave a comment.