Read about the invisible hand that will run the World Cup in South Africa
This is the first in a series of blog posts from Dilbagh Gill who is head of Sports at Mahindra Satyam.
He has the enviable task of making sure the event management software, that Mahindra Satyam has built for FIFA for the 2010 World Cup finals, runs smoothly. Dilbagh has agreed to blog from the event during the competition, which begins this month.
But here is one to get you warmed up:
Also see Dilbagh interviewed by Computer Weekly.
By Dilbagh Gill, head of Sports at Mahindra Satyam.
Firstly, let me introduce myself,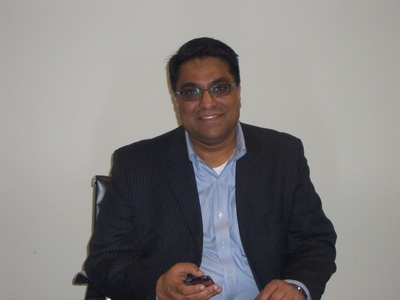 I'm lucky enough to run the Sports Division for IT services provider Mahindra Satyam, which is great because I get to combine two favourite interests of mine, sports and technology. India (statistically the world's worst sporting nation) isn't best known for its sporting prowess – other than for Cricket – but my company won the contract to provide the technology for the 2010 FIFA World CupTM back in 2006 and I'm in charge of making sure that the online Event Management System that we've developed for FIFA to manage the accreditation, logistics, IT assets and transportation for all the volunteers, FIFA officials, players and international media behind the scenes is all working perfectly, as well as organising the ticketing systems in multiple languages to issue 3 Million tickets. Incidentally – just so you know – this is the first time that a web based system has ever been used to manage an international sporting event of this size, so no pressure! Still, I'm used to handling pressure, in my youth I was a semi-professional rally driver in India which definitely focused the mind, because mistakes could prove very damaging to your health!… Well rally driving holds good memories for me but it's a different story as it took me a long time to realise my enthusiasm was way ahead of my ability.
My team is also responsible for the onsite support for the network and all devices, all 30,000 of them, being deployed across twelve venues in South Africa. That includes all ten football stadiums, the International Broadcast Centre and the FIFA Headquarters. So when you're comfortably installed in your armchairs with your beer and friends, cheering for your team, spare a thought for me and my team scurrying around behind the scenes sometimes 3 floors underground, making sure that all the technology is running smoothly!
One of the most daunting aspects of the whole project is its sheer magnitude. To try and give you some idea of the time and effort invested by my team so far here are a few statistics: we're responsible for 250,000 accreditations, 3 million tickets, 100 vehicles and nearly a billion dollar of assets, FIFA has laid over a million kilometres of cable, we will be investing 106,656 man hours in operational service and support, my team have travelled 1,800,000 kms supporting this initiative and we will be expending 1,920 man -days of effort in supporting the EMS system.
Yet, I have to say that I'm feeling confident that everything is falling into place. After all it's not the first time that we've done this, we've had plenty of trial runs with last year's Confederation Cup and a bunch of other FIFA sporting events since we set out on this path back in 2007.
The atmosphere here in South Africa is definitely hotting up now, as the countdown to the first kick off is within sight. We've set up our Command Centre at the International Broadcast Center campus in the shadow of the Soccer City Stadium, you can see how it looks here.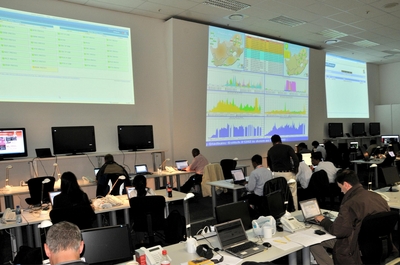 We've already printed up 14,000 badges for volunteers, officials, press and players and the FIFA delegation has officially taken up residence at FIFA HQ here in Jo'burg.
This week has been pretty hectic and my working day is getting longer. The work of the 135 people I have on the ground here, spread across all twelve locations, ranges from the really interesting, to the tedious but necessary. Here's a shot of some of my staff preloading the SIM cards on the Sony phones for the officials and volunteers with short codes for all the important numbers they are likely to need during the tournament.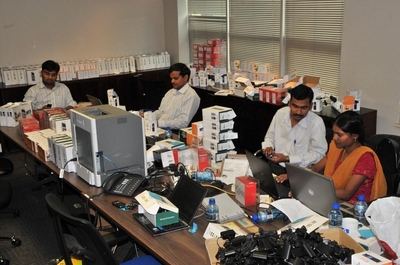 Well, I'll sign off now for the moment, but will be back in a couple of days with another bulletin to keep you up to speed with our progress as we prepare for the first kick off on June 11th between the Bafana Bafana and Mexico. Waiting for the hums of the Vuvuzela's to ring through this fabulous country
Incidentally if anyone has any questions for me about what's going on here in South Africa (provided they aren't confidential) please feel free to ask and I'll do my best to answer them.
Ke Nako!