Outgoing T-Systems UK head reflects on 20 years in a changing industry
Sam Kingston is leaving his role as UK head at Deutsche Telekom owned IT services company T-Systems after a five year spell. He is currently weighing up an alternative international role at T-Systems.
I recently met up with Sam and we were talking about how much the outsourcing sector is changing at the moment and he pointed out a major change currently happening that is seeing suppliers become less willing to do large up-front investment as part of deals. In his 20 years in the IT outsourcing sector he has seen a lot and he has interesting thoughts on some of the current trends.
Sam Kingston has worked at Unisys, EDS, Oracle as well as T-Systems since switching from being a scientist at the Ministry of Defence to the IT outsourcing sector.
I suppose a good place to start is to outline just how big the outsourcing sector is today. Gartner recently published a report outlining that the worldwide IT outsourcing (ITO) market is will reach $288bn in 2013.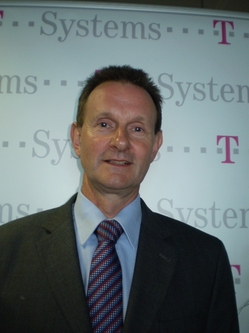 It is big business but suppliers are by no means finding it easy. They are under real pressure because of factors like the emergence of technologies such as cloud computing, which is changing delivery models, and the recession which means customers have less money.
He talked about how suppliers today are less willing to put lots of upfront investments in place because contracts tend to be shorter with less scope. In the past suppliers would be willing to come into a deal and do a big technology refresh in the knowledge that they might get a good ten years with the customer. They took a hit in the first year or so and then started making a lot in later years.
He said that this practice is tantamount to buying business and big suppliers can really gain huge market share this way. "The economic downturn has forced suppliers to invest in deals." But he said because customers are demanding shorter contracts, pay as you go delivery models and more regular renegotiations suppliers will not willing to do the investments.
He said this is making suppliers take stock and really work out where they can compete. He says there will be more focus on market sectors with platforms for certain industries developed by suppliers with expertise. He said large firms will also develop more modular services.
With the current trend for multi-sourcing it could be time for more and more suppliers to identify where they want to play.
He also talked about the India suppliers and how there are so many of them that consolidation, although not straight forward, is inevitable. It is difficult to see the huge Indian suppliers merging because they are like families at war and the smaller players are often spin offs from huge Indian companies that are not desperate for cash.
"Over the last five years the Indian suppliers have really accelerated and there are probably too many," said Kingston.