Only fraction of public sector offshore IT. But for how long?
Less than a third of public sector organisations receive IT services from offshore or nearshore location despite 90% outsourcing IT.
This is one of the findings of KPMG's in depth research of UK outsourcing contracts. The annual survey looks at UK contracts worth a total of £14bn from 230 organisations.
It has some interesting findings which you can see if you follow this link and give Computer Weekly your contact details. It takes a couple of minutes and is worth it because once signed in you can read the hundreds of specialists reports we publish online.

Download this free guide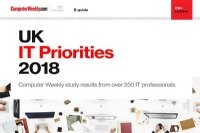 The future of UK tech: Cloudy with a chance of Artificial Intelligence
The forecast for the future is in and, in typical British fashion, it looks like it's going to be cloudy. Our IT Priorities survey has revealed that organisations are planning on making the most of the cloud in the future. Download our IT Priorities results for more insights into where the IT industry is going.
One of the most interesting findings is that only 29% of public sector organisations have IT delivered from offshore or nearshore locations. With cost cutting at the top of the public sector agenda it is probably the time organisations will at least consider offshoring even if they don't do it.
One senior executive at a supplier I spoke to said there is more interest in offshoring and more questions are being asked by public sector buyers.
"The precedent has been set and there is more openness towards it," he said. "There was a taboo but this has been offset by the realities of what is happening."
What are your thoughts on this IT hot potato?