Is offshoring making Computer Science graduates the largest unemployed group
I always get mixed message from the IT industry about skills availability. One side says there is a skills shortage while another says there is not. Some say there are good opportunities in Computer Science and some say there are not.

Download this free guide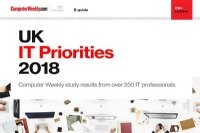 2018 UK IT Priorities survey results
IT organisations in the UK and across Europe are starting to accelerate the move to the cloud. Read more about the key areas in which senior IT managers are planning to invest in over the next 12 months.
The offshoring of IT work is always seen as a major hinderance to the UK IT profession. I could porobably do an entire blog or two dedicated to this subject alone.
I recently wrote a blog about how UK IT professionals are themsleves migrating for pastures new.
Here are some interesting figures that contribute to the debate:
The figures from the Higher Education Statistics Agency (HESA) show that Computer Science graduates are the largest group of unemployed graduates in the UK.
These figures are from July and show that 17% of 2009 computer science graduates were unemployed. This is the highest and the average graduate unemployment is 10%.
The continued offshoring of IT work and the use of Intra Company Transfers (ICTs) to bring in workers from overseas is a major cause according to Sir Andrew Green of Migration Watch.
His comments were made in a Home Affairs Select Committee which discussed immigration yesterday – see it here.
Here is a blog post I did earlier with the statistics on the number of immigrant workers in the UK and how many are using the ICT route.

Also thanks to Argiebee for you contribution.
Here is the full unemployment rate for 2009 graduates in different professions.
Computer science 17%
Communications 14%
Architecture 13%
Engineering 13%
Creative arts 13%
Business studies 11%
Maths 10%
Languages 9%
Biological science 9%
Law 6%
Education 5%
Medicine 0%
Thanks to David who provided a link to the stats in a recent comment to this blog post. The full article is here: HESA figures on unemployment rate for 2009 graduates by profession