Insourcing + outsourcing - outsourcing = backsourcing - the academic's view
There have been a few high profile examples of big businesses dumping their IT service partners to start doing it themselves. General Motors' decision to take work back in-house from HP is a good example.
But if a service has gone from being in-house to being outsourced and then brought back in-house it is backsourcing which is a bit different to insourcing, which is the process of setting up a service in-house.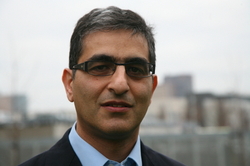 Here in this guest blog post Professor Ilan Oshri at the Loughborough School of Business gioves us an academic view.
Backsourcing: can you do it right?
By Prof. Ilan Oshri
"The list is long, just to name a few: American Airlines brought back its IT infrastructure from IBM in 2007. JPMorgan Chase terminated a $5B contract with IBM in 2002 and Mutual of New York ended a 7-year contract with CSC in 1997. Sainsbury terminated an outsourcing contract with Accenture after 5 years of service. McDermott International Inc. dropped what was supposed to be a 10-year global IT outsourcing deal with AT&T's professional services and took back responsibility for design, implementation and management of its IT services. More recently both Santander and General Motors announced that they are bringing back offshored work from India to onshore.
While there are high profile client firms and vendors involved in backsourcing, there is still very little known about the phenomenon. In many of the cases, it is simply because client firms avoid publicising backsourcing in order to not upset their outsourcing vendors. While we know a little about the reasons to backsource, I can safely say that we know nothing about the success criteria.
Backsourcing (also known as re-shoring or insourcing) is the act of bringing back in-house previously outsourced services as outsourcing contracts expire or have been terminated. This view of backsourcing implies an informed decision making to backsource in which firms evaluate a set of factors and arrived in a decision that is based on higher value or better control. Indeed in the vast majority of the cases, firms enanged in backsourcing because of their desire to improve control over services or escalating costs. In reality, firms do not always achieve such objectives through backsourcing simply because the act of backsourcing is often pursued as a remedy to a problem rather than a calculated sourcing model. In my view, some firms should have considered backsourcing simply because of improvements in their internal sourcing and retained organisation, while other firms should have re-considered their decision to backsource as their in-house service support function has not improved since they pursued outsourcing. In other words, success in backsourcing really depends on what you are trying to achieve in backsourcing and whether the act is a reaction to bad planning or a healthy evolution of the internal sourcing capabilities.
Backsourcing: The Drivers and Success
Basically there are three major categories of reasons for backsourcing: contract problems, opportunities from organizational changes, and opportunities from external environmental changes. Lets examine each driver and its success criteria.
-Contract Problems
Why are we still facing contract problems? There are quite a few reasons: The costs involved in outsourcing tend to be substantially higher than planned because of what has been coined as 'hidden costs'. Cost savings are not always as promised and tend to erode rather quickly in particular when the parties face challenges. There is also a sense of losing control by the client firm that may affect the client's strategic view of this outsourcing realtionship.
These drivers may make the client firms feel that they are locked-in in these outsourcing relationships, and the only way out is backsourcing. For example, In 1996, Continental Airlines ended collaboration with its outsourcing partner, EDS, after four years of successful work together. Continental wanted to improve their reservation system to enable more efficient fleet capacity usage and better ticket pricing. Since EDS was not familiar with the air flight industry, nor with Continental customers, Continental decided it was preferable to run these IT developments in-house.
The success criteria of such backsourcing depend on the client's ability to resolve conflict with the vendor in order to ensure an effective reverse knowledge transfer from the vendor to the client firm. The success of the backsourcing also depends on the absorption capacity of the client firm to take back knowledge and practices and re-integrate them rather rapidly at service levels on par or better than the vendor's. Considering these rather major challenges, my advise to the client firm is to think again their backsourcing intentions. In particular, if the key driver is losing control and running costs, I suspect that the 'retained' organisation is lacking the capabilities to effectively absorb knowledge and smoothly re-integrate the service.
-Internally Generated Opportunities
Changes in executive management within the outsourcing company are generally combined with shifts in power distribution. When companies introduce new executives, these new members are three times more likely to provoke changes. In particular, new CFOs and sometimes CIOs reconsider the value gained from the IT outsourcing contract. At JP Morgan Chase, for example, a new management team, including a new CIO, clearly influenced the decision to backsource services.
The key challenge for an organisation that is considering backsourcing following change in leadership is to realize whether the new leadership can align their sourcing vision with the breath and depth of the sourcing internal capabilities. New vision, which often means change in direction, can be a changing point for the organisation; however, can only materialize if the internal sourcing capabilities support such a new path. In addition to a strong retained organisation that can absorb knowledge and smoothly integrate new service, the success of this scenario depends on the alignment of the business and technical vision and actual operations.
-Externally Generated Opportunities
Some firms pursue backsourcing following external changes such as mergers, divestures and acquisitions. The Halifax Building Society's merger with Bank of Scotland is an example of externally induced structural changes that led to Halifax Building Society cancelling a ten-year outsourcing contract with IBM. In such a scenario, the focus of the firm to assess threats following rapid changes in the environment and safeguard its competitiveness by securing access and ownership of critical resources, one of which is the repatriation of an outsourced function.
Success of such backsourcing depends on the strategic value of the outsourced function to business operations and competitiveness and the strength of the retained organisation. Most firms fail to realize the strategic value of the outsourced function to business operations, therefore may properly understand the signals from the external environment as competition intensifies; however, the remedy for this strategic shift is not necessarily the backsourcing of a function, but possibly the extension of the partner networks to tap into innovation and value adding services.
Backsourcing: What should you do?
Based on this list nearly any client firm can be a candidate for backsourcing. However, some are going to be more successful than others if they p ay close attention to the strength of the retained organisation, its ability to absorb knowledge, and re-integrate new services. Further, each scenario of backsourcing is different. Therefore, it is imperative to carefully analyse the driver (contract issues, internal change, external change) and seek advice regarding the factors affecting backsourcing success."