Infosys welcomes special UK and India relationship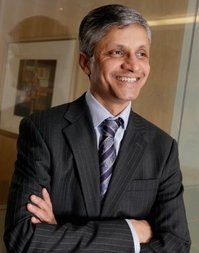 BG Srinivas, European head of Indian IT supplier Infosys, has kindly offered his thoughts on David Cameron's visit to India.
I saw lots of Indians interviewed about the visit and most seemed lukewarm about a new special relationship between UK and India.
BG is far more positive.
Here is what he said:
"David Cameron's visit to India last week created much hype around the impending "special relationship" between the UK and India. Many commentators have questioned why India has been singled out by Mr. Cameron, and as the Prime Minister rightly put it, the most obvious reason is economic.
I have been an Infoscian for more than ten years, and in this time, I have seen India grow to become one of the most influential and successful countries in the world. Recent figures show that the country's GDP is worth $1,217bn and has grown by nearly eight per cent over the last four quarters. Additionally, today it stands as the world's largest democracy.
In my view, Mr. Cameron's visit to India is clear sign of his commitment to increasing ties between India and the UK. India has a lot to offer the UK, especially in vertical markets such as retail, manufacturing, aerospace and engineering. For example, currently the Indian retail sector is worth around £227bn and is forecast to grow to £352bn by 2014. However, only a little over 10 per cent of this trade is in the organised sector, which means there is huge potential for big retail players.
The opportunities don't stop there. India is globally renowned as a centre for research and innovation, as well as for its vast talent pool. Goldman Sachs reported recently that by 2020, India will add an additional 110 million people to its working ranks.
While the UK delegation has acknowledged India's growth, a lot still needs to be done for the country to reach its full potential. At the moment, only 19 per cent of the population is employed in India's manufacturing/industry sector, it is important to have inclusive growth as well, the rural sector requires equal attention as well, this can happen only with close partnership between the Indian government and industry in general, and help make improvements by increasing opportunities and building better infrastructure, increase the general living standards, improve education and healthcare.
If the trade and opportunities for India and UK have to flourish, then there needs to be further engagement beyond the visit. There has to be a review of this every six months to assess the progress, only then we can see significant gains for both countries.
We were honored to host Mr. Cameron and his delegation at Infosys campus, as this gave us the opportunity to show him, and the delegation, what the 'new India' looks like. I look forward to seeing how the special relationship develops and believe we have some exciting times ahead."
Also see BG Srinivas' guest blogs from Davos in February