IT workers being made redundant expected to train offshore replacements
Back in 2009 I wrote a few articles about a practice in the IT outsourcing industry that sees workers made redundant in favour of cheaper staff offshore being expected to train their offshore replacements.

Download this free guide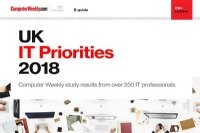 2018 UK IT Priorities survey results
IT organisations in the UK and across Europe are starting to accelerate the move to the cloud. Read more about the key areas in which senior IT managers are planning to invest in over the next 12 months.
CSC is offshoring about 200 jobs to India and the Czech Republic. This is part of the IT service firm's ongoing restructure. The Unite union this week slammed CSC over this and it has a point. If a worker is deemed redundant doesn't that mean their skills are no longer needed? But CSC is asking them to transfer the knowledge to replacements so their skills are clearly needed.
CSC said these people will be additionally compensated. But that is another kick in the teeth for workers."Agree to transfer knowledge and we will give you a bit more." Where is the choice there, I think most people being made redundant would take the extra, not knowing what the future holds.
CSC is not the only company doing it. Big businesses such as government owned RBS and BT have done it, as I wrote in this article, which included interviews with affected workers. In fact I think in many offshoring projects there is a need for the workers being cut to pass on knowledge to replacements.
Let know what you think or tell your story if you have been affected.