IT sourcing models are shifting: A Deloitte perspective.
From the number of renegotiations going on it is clear that businesses are changing how they buy IT service. In this guest blog Bhupinder Sandhu from Deloitte explores changing sourcing models.
IT sourcing is no longer as simple as A, B or C; but it need not be overly complex.
By Bhupinder Sandhu, manager in Deloitte's Technology Consulting practice.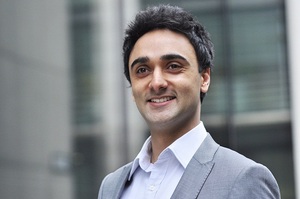 "Are we witnessing the death of the 'mega-deal'? Is it going to get even tougher for the traditional one-stop-shop IT Outsourcing (ITO) houses? Why are so many organisations re-thinking traditional sourcing models all at the same time?
Right now many companies are fundamentally changing their sourcing models to develop a smarter approach that will maximise the benefits of competition. Some of our clients have recently moved from a single supplier managed service to a layered approach with a Service Integrator, managing a small cluster of vendors. Many companies are moving toward multi-sourced models with shorter contract durations, increased flexibility and outcome focussed commercial models. Others are transitioning from best of breed supplier mixes toward "Tower-Sourcing"; "Layered-Source" or "Guardian Vendor" approaches.
Recent sourcing trends have spawned fashionable titles including "Competitive Ecosystems", "Smart-sourcing"; "Right-Sourcing" and even "Back-Sourcing". Whatever the fad, like it or not, outsourcing continues to thrive, albeit through an increasingly complex and fragmented marketplace.

Dave Tansley, head of Technology Effectiveness at Deloitte says; "Given the rate of technological change, the traditional 10-year monolithic ITO deals are simply unsustainable. Our clients are looking at alternate mechanisms to deliver cost savings, performance improvement and innovation. However, moving toward multi-sourced models carries an additional integration risk and therefore requires careful planning and execution."

The death of monogamy
At the time, it all made sense. The single source mega-deal offered competitive advantage through huge economies of scale, operational simplicity and stability. It allowed companies to focus on their core business and hand over complicated IT services to 'one-stop-shops' often transferring risk, accountability and even redundant staff through TUPE arrangements. The model was well suited to end-to-end providers. These vendors promised reliability, resilience and availability alongside performance improvements and cost savings in return for long term stable revenues.
Some cynics may argue that the real driver of the change is the political motivations and short-term ambitions of IT leaders at the time. Over time, however, the alignment between the business and IT became unworkable. Contracts themselves became increasingly irrelevant leading to a breakdown of trust and increasingly tense relationships. Macroeconomic factors including technology advancement, extended delivery models and the reducing cost of electronics made long term ITO deals more and more out of touch. And now? Organisations don't want to make the same mistake. The quest to find the holy grail of an optimised IT supply chain continues.

Is it tough times for the big vendors?
The rate of technology change is a clear driving force. Virtualisation, cloud computing and innovations in mobility are just some examples that are fuelling disruption and making long term contracts unsustainable. This could be because some technology giants have struggled to maintain the specialist skills required to deal with rapid obsolescence. On the other hand, traditional System Integrator (SI) outfits are reaping the benefits of connecting up outsource deals taking on the management and risk of a tiered supply chain. Indeed the marketplace is experiencing somewhat of a convergence as global outsourcers are also scrambling to offer an SI proposition alongside their wholesale outsourcing offerings.

While the current economic environment is making the allure of cost reduction through outsourcing attractive, the same conditions are making targeted acquisitions for huge vendors increasingly difficult in austere times.
The agility offered by smaller organisations and the reduce risk of being acquired over recent years has enabled an environment for multi-sourcing to continue at pace.

Choosing a sourcing approach
"Before you bring in third parties to run parts of your business, it is worth pausing to consider the risks," comments Tansley. "Some outsourcing deals fail dramatically and publicly. Rather more are quietly set aside as one (or both) parties exit and even larger number limp on, failing to deliver quite the benefits that were expected. There are many success stories though – businesses that have used outsourcing to achieve dramatic savings, shed themselves of expensive assets or built the capacity to grow in a way that would not have been possible using in-house resources."
Once you've made the decision to outsource at least part of your business you need to consider which model is the best fit. You will need to prioritise and align you new sourcing approach to your organisational objectives and then decide the extent to which you mono or multi-source. Businesses need to remember that extreme multi-sourcing has its own issues as the benefits of a best of breed model are often outweighed by the additional vendor management overhead, increased integration risk and simply getting vendors to work together.
Making the transition requires a structured approach and deep commercial skill set to ensure that both the incumbent provider is managed out effectively and there is minimal disruption to end users and customers. Finally, sustaining the optimised sourcing model and tracking the benefits identified is by no means a simple task. This requires a new type of organisation that has the skills to effectively manage vendor relationships and tweak the sourcing model as the market shifts and technology changes.

The future
So what do these statistics and opinions mean?
For buyers;
Talent War – Procurement functions will need to have the right skill-set along with senior stakeholder accountability enabling stronger alignment of the buying activity with the organisations strategic objectives. Experienced and qualified sourcing staff will be required not only in the early stages of contract development, but also in the longer term vendor relationship management aspects.
Mature Sourcing Functions – The focus needs to be on preventing the costly pendulum swing from one sourcing extreme to another every few years. Instead, buyers should develop a sustainable sourcing strategy with regular tweaking of their supply chain as technology and other environmental factors disrupt the equilibrium.
Focus on Whole Life Cost – It will be important to remember the balance between scale economies derived from sole sourcing vs. the additional overhead costs of managing multiple suppliers.
Governance – The management of suppliers (in-particular when they have to work together) will be of paramount importance to any successful transition.
For suppliers;
Cooperation (even with competitors) – Buyers will be less tolerant of 'blame games' and will demand suppliers work in a cooperative manor for the benefit of the whole ecosystem. System Integrators or Guardian Vendors will leverage more power and they will also need expert commercial capabilities to ensure outcomes for their clients can be delivered throughout the supply chain.
Death of the Monoliths – 'One stop shops' will have to differentiate, as the perceived benefits of competition will outweigh the scale economies of sole sourcing, this will force increased alliances and collaboration and threaten M&A activity. Large suppliers must be careful of positioning themselves with too much breadth given the propensity (and mandatory requirement in some sectors) for competition.
Mixed news for SMEs – Although multi-sourcing in general will be positive for the SME market, smaller organisations will increasingly have relationships with 'Guardian Vendor' rather than direct buyer relationships (for larger buyers). This will force SMEs to further differentiate their offerings.
Outsourcing and multi-sourcing in particular is increasing. Through our clients, we have found that this means there will be a greater requirement for expert procurement professionals and procurement advisory services, along with improving repeatability and standardisation in the contracting process. Having a strong procurement skill-set at your disposal to drive a sourcing strategy and build and maintain good supplier relations, in an environment where your suppliers may be working hand-in-hand, will be the key to managing your transition to the model that best compliments your IT and business strategy."
Content Continues Below

Download this free guide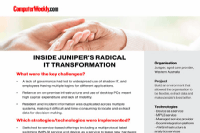 Project Brief: Inside Juniper's radical IT transformation
Western Australian aged care provider Juniper embarked on an aggressive strategy to completely transform its IT operations in just two years. This 1-page brief summarises how this overhaul has helped free up the resources needed to provide better quality of care for residents.