IT leaders may face recruitment challenges if Tories win
So the much awaited day of reckoning has arrived. The General Election is here.
I remember when the Tories were booted out in 1997. I was a student at the time and there was a feeling of renewal in the air. This time it's a bit different with none of the parties really offering any hope.

Download this free guide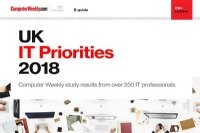 2018 UK IT Priorities survey results
IT organisations in the UK and across Europe are starting to accelerate the move to the cloud. Read more about the key areas in which senior IT managers are planning to invest in over the next 12 months.
But one thing that might change if the Tories manage to get a decent majority, which is unlikely, is that the number of IT workers allowed in the country from outside Europe will be capped.
What I was wondering is has David Cameron consulted his much hyped business leaders about this. Because without mentioning their company's names many of them are serial offshorers of jobs.
You know the people I mean. That group of millionaires that complained about what they describe as "the job tax." The national insurance rise to you and me. If they care so much about British jobs, why do many of them offshore work that could be done in the UK
IT workers are angry about jobs being filled by overseas workers when the skills are available in the UK. Businessess abuse the Intra Company Transfer points system to bring in cheap labour. But will the Tory caps work.
Most of the IT workers that have complianed about the massive influx of workers, mainly from India, do not actually agree with the Tories.
Many believe the current system that only permits workers to come in if a job cannot be filled by a UK worker, is fine but is not policed properly.