Has Outsourcing 2.0 arrived and is innovation built-in?
I blogged last week about innovation in Financial services. One of the things that speakers spoke of was that it is very difficult to outsource innovation.

Download this free guide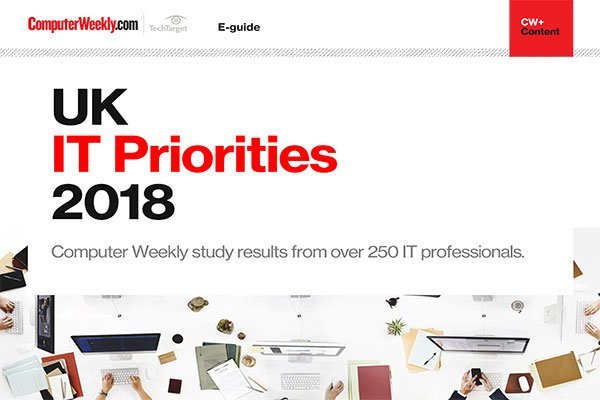 2018 UK IT Priorities survey results
IT organisations in the UK and across Europe are starting to accelerate the move to the cloud. Read more about the key areas in which senior IT managers are planning to invest in over the next 12 months.
In this guest blog UK head at IT services firm Cognizant, Sanjiv Gossain, talks about the role iof IT services firms in support innovation within enterpreises.
Outsourcing 2.0, by Sanjiv Gossain
"Whilst outsourcing has traditionally been seen as a way of cutting costs, the pendulum is definitely swinging towards clients wanting more than savings, increasingly looking at ways to add value.

As a result of this shift, the majority of our client engagements are now driven by helping customers to make their operations as efficient and cost-effective as possible, whilst embracing and investing in innovative technologies and services to help them become more agile and flexible, while enabling growth.

Many businesses, regardless of their heritage or the products and services they provide, are starting to place increasing emphasis on innovation. And with more pressure than ever on budgets and resources, they are increasingly turning to trusted third parties to not only "cut the fat", but also to bring innovation to the table, using savings from operational improvements to fund investments in new opportunities.

Innovation can be enabled in two ways. Firstly it is about enabling businesses to tap into the wealth of creative talent within their own organisations. Promoting innovation and an entrepreneurial culture internally is imperative; from suggesting new product lines and innovative business ideas to identifying new niche markets to target or ways to foster greater teamwork, employees should be able to share and voice their opinions and work with the right people to develop them. Outsourcers are increasingly taking a role to provide frameworks and practical support to enable this.

Secondly, businesses are looking to outsourcing providers for insight on the best use of technology and ways of working that will help give their business a competitive edge. Many service providers are already one step ahead of the game having developed their own technologies and processes to improve efficiencies and customer service. It is this wisdom gained from their own experience that they can share with their customers. Social, mobile, analytics and cloud technologies (SMAC) are the front runners in disruptive technologies driving business innovation; however, service providers need to assess what will work specifically for each individual client and offer valuable advice in terms of what to invest in to drive innovation, whilst enhancing productivity.

Increasingly, customers are asking for innovation to be built into their contracts. Today's outsourcing contracts are smaller and more flexible in order to give customers the opportunity to adjust things on an ad hoc basis or as business needs change. The commercial concept of outsourcing has also altered a great deal and pricing is now becoming more outcome-based so businesses get exactly what they want and are paying for results rather than large numbers of consultants.

Helping clients run better, run differently means reducing costs and maximising efficiency whilst adding value and helping businesses stand out from the competition through the delivery of innovative technology and services. The run better concept of outsourcing is a given for customers – improve efficiency and save costs- they are increasingly looking to run differently, searching for value and/or innovation that, in conjunction with operational efficiency and effectiveness, and cost savings, truly adds something to their business and, in the long run, to their end clients.

Outsourcers need to help businesses become more flexible, agile and innovative, get them closer to delivering competitive advantage while providing high levels of customer service to their own clients. We expect this shift to continue, helping clients to build stronger businesses."