Half of UK IT professionals have received no training in last five years
Here are some more of the findings of the survey that a reader of this blog created. The aim of the survey was to shed light on whether there is an IT skills shortage in the UK or not.
Yesterday I blogged about how 80% of IT workers have had no real pay rise for five years.
Today I reveal the results of the question about the training being provided by employers to IT staff.
Quite shockingly about 50% have had no training in the last 5 years.
The results support the conclusions of research from e-skills that found that in 2001 35% of IT & Telecoms professionals reported that they had received training in the last 13 weeks. But by 2009 this had dropped to 21%.
It appears that employers might be the ones creating the skills gap. It doesn't matter how good you are, if you don't keep your training up to date you will quickly become unskilled. Many IT professionals have taken responsibility for their own training to keep up. But many of these are freelancers who can sometimes put time aside to brush up. Permanent staff don't have time.
The survey asked the question: As UK employers have been complaining about "skills shortages" for years, one would also expect them to invest in developing the skills of their staff, so how much training has your employer provided for you in the last 5 years?
And the survey said: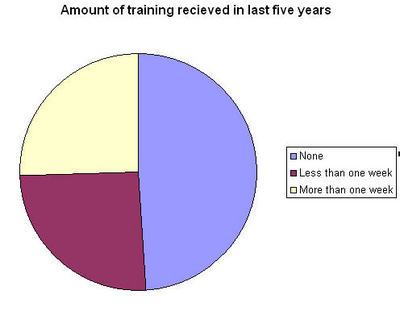 Here are some of the comments left in the survey regarding training.
– "Lack of investment by UK companies in their own IT staff. I've worked in the industry as a technical consultant for over 20 years and I despair of the lack of good technical knowledge in many of my younger (under 30) colleagues. "
– "Personally, I think its becoming a self fulfilling prophecy. In-house promotion and training is virtually non existant; people move up the career ladder by moving from one employer to another. Hence, the employers accuse the employees/candidates of being disloyal and refuse to pay to train them and the employees see their loyalty as being only one way with nothing coming back, so when someone offers them something better, they leave."
– "As someone who spent 37 years gaining as broad a range of skills as possible – my last project involved data cubes linked to spreadsheets/datawarehouses – and who then found when dumped into the job market that those skills and experience effectively rendered me unemployable."
– "I am a hiring manager for a successful and growing IT services company. Most of our hires are non-UK but EU citizens. We find that they tend to have a better theoretical grounding in computer science, tend to have learned more from their industrial experience and tend to be better motivated than UK citizens."