Former Satyam business in a better position following Tech Mahindra take-over
I caught up with the European boss of the combined Mahindra Satyam and Tech Mahindra Business, Vikram Nair.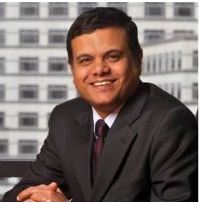 It was good to get an update form the company that was on its knees in 2009 after former chairman B Ramalinga Raju resigned and confessed to inflating the company's financial figures to the tune of $1bn.
The company, was one of the country's shining IT services, would have collapsed had it not been acquired by another Indian company in the form of specialist telecoms supplier Tech Mahindra later in 2009.
The company now runs as one despite the Tech Mahindra and Mahindra Satyam names. "We are one in all but name," says Nair. It is close to changing to a single name. Perhaps the Satyam name will be gone forever. This would be a shame as I have lots of memories about writing about the firm which actually had a great reputation until the fraud scandal hit.
And the company is doing well now. Its latest results $329m, which was 14% higher than the same period last year and 10% more than the previous quarter. It made a profit of $69m, which was 49% higher than the same quarter a year ago and 12% higher than the previous quarter. It is now India's sixth biggest, with about 86,000 staff.
But what is different about the company and why is it in a better position now than prior to the fraud scandal?
Nair says the great advantage of the combination of Satyam and Tech Mahindra is the ability to cross sell and up-sell. He says the company is now far more profitable because it sells more services into customers. Mahindra Satyam's biggest business is software services such as the implementation and support of ERP and BI software, whereas Tech Mahindra has lots of telecoms customers. The company is now selling across both sets of customers.
But it is not just about sharing customers but also skills.
Nair says another benefit of the merger with Tech Mahindra is the fact that it is now part of the Mahindra Mahindra conglomerate, which is huge in manufacturing. This has given Mahindra Satyam success to knowledge about the manufacturing sector. Mahindra Mahindra is big in the automotive airline and farm, equipment manufacturing industries.
This has helped Mahindra Satyam improve its business in the manufacturing sector by offering them more appropriate software services, says Nair.
He said for example if a car manufacture wants to automate a process the company can tap internal knowledge to help them create the software.
One of the interesting differences between Mahindra Satyam/Tech Mahindra and other big Indian service providers is the fact that its European business is as big as its US business. Each accounts for about 40% of its revenues. The other big Indian players have much bigger US businesses than European.