Cognizant: When is an Indian IT supplier not Indian?
I recently wrote a blog post about how well Indian service provider Cognizant was doing. The company has been growing faster than its Indian counterparts during the last few quarters.
Add to that the top ranking in Equaterra's customer satisfaction survey and you have a supplier doing something right.
I met up with Cognizant's managing director UK and Ireland today, Sanjiv Gossain, who has been with the company six years. He was previously CTO at Cambridge Technologies in the US.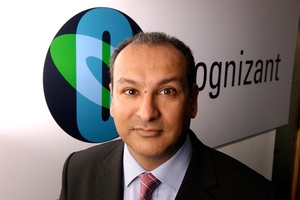 So this is Cognizant:
It has about 85,000 employees. About 50,000 of these are based in India.
Cognizant is always referred to as one of the big Indian suppliers, number four to be exact, but it is actually a US firm with lots of staff in India.
"We are a combination of the 'can do' approach in the US and we have the engineering and process expertise of India," says Gossain.
Its customers are mainly blue chip companies with 79% of business done in the US with 11.8% in the UK. AstraZeneca is one of its bigegst customers.
In the UK, where its business is growing, it make 45% of its revenues in financial services, 18% in pharmaceuticals with the remaining 37% split between retail, manufacturing, telecoms and media.
It splits its business up by sector rather than technology or service.
Its biggest proportion of business is in application support, application testing as well as application development. It does BPO but what it describes as vertical BPO and not things like call centres.
Cognizant's approach to the cloud is around business process as a service. This is where a customer will outsource an entire business process to Cognizant, who will complete all aspects of the service, charge per transaction and deliver via the cloud.
This sounds like something that would work in the UK public sector. Departments would only be charged on what is used and suppliers could increase profits by becoming more efficient. That'll never happen.
Also see a former Cognizant director talking about effective cost cutting.