Capgemini will be a mainly offshore based supplier by 2015
Capgemini will have over half of its employees in offshore locations such as India by 2015, as it continuously pushes offshore.
In a presentation given at its results the company revealed its plan. See the picture for details.
In 2011 it had 44,000 staff offshore out of 119,000 in total, with 35,000 in India. Today it has 123,000 employees with 48,000 offshore, over 40,000 of which are in India. But it plans to increase its workforce to 155,000 in 2015 with a massive 80,000 offshore.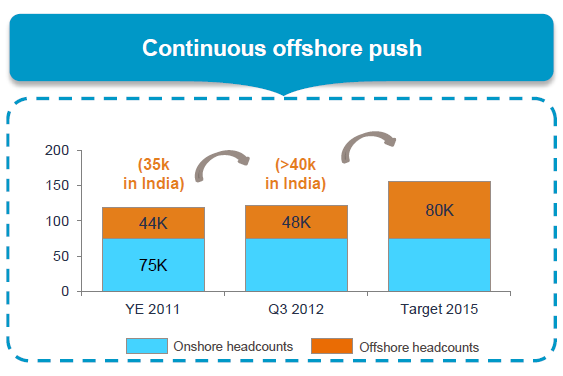 This year the company has recruited 9,264 workers in India and 2844 in other offshore locations.
The company is not planning to lay off its onshore staff but it seems that new hires will be made offshore.
I suppose everyone tries to be IBM, which has a huge India based workforce Over 100,000 according to some.