iPad 3 disappears off Apple's website to be replaced by the iPad 4
So the Apple gestation period seems to be just over six months, they're popping them out quicker than us humans can produce babies.
As well as the
iPad mini
, Apple also launched the "new-new iPad" at its event in California last night (from now on I'm referring to it as the iPad 4). Interestingly it seems to have replaced the iPad 3 on the
Apple website,
which was only launched in March 2012.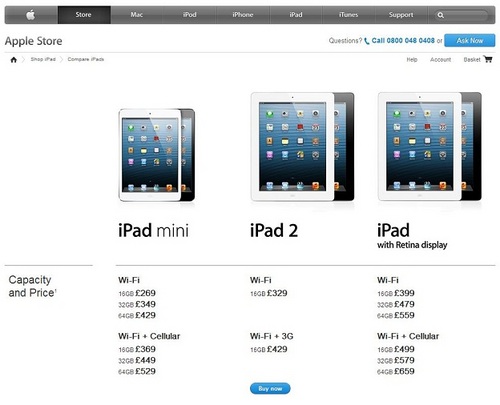 Where did the iPad 3 go? They did that quietly.
The retina display tablet has improved its A5X chip to a dual-core A6X with quad-core graphics chip and unsurprisingly requires the lightning connector. Seems as though Apple have only launched the iPad 4 to cash in on the lightning dock and the accessories market in time for Christmas. However, the iPad 4 is 4G compatible – we can almost hear the pennies rolling into
EE's bank account as we speak.
For customers who bought the iPad 3 and are rather angry at the new addition to the Apple family quite so soon, don't worry you send your iPad 3 to an orphanage and exchange it for the iPad 4… only if you purchased your iPad 3 in the past 14 days as part of Apple's standard returns policy.
iMac drops optical drive, will this mean the end of discs?
Among all the noise from the multiple iPad announcements, the company also revealed a
new iMac desktop computer
last night – and it's lost some weight. It has slimmed down to just 5mm thick and also shed pounds by ridding itself of the optical drive.
Will this be the end of discs and aid in the movement to digital media? I hope not, I love my DVDs and Blu-rays lined up alphabetically on my shelf (ahem!). Not just that, but what about hefty pieces of software on discs which could take an age to download, versus popping them in a disc drive and away you go?
Will consumers and hardware developers now follow Apple in a zombie-like daze into the digital media market future? No! Let's stand up to the giant and save our discs.