Easter is upon us. What do you think of? "Chocolate". Yes, what else? "Easter eggs". Yes, there's a theme forming. Apart from chocolate, what do you think of? "Bunnies". Anything else?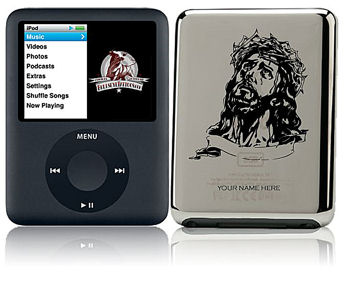 "Ickle wickle chicks." What about Jesus? "Oh yes, him."
Get your own personal (music player) Jesus. You can witness Jesus rising from the engraver when you order your iPod from the good old US of A. No, not the holy Bible Belt but central Lost Angeles which is where TechEngraver lives. Take your pick Touch, Nano, Shuffle and Classic models or even a 2GB USB drive.
The only catch is the price. From the UK it's $349 for an 8GB iPod Touch plus $69.87 delivery which adds up to around £286. Holy iPods, Batman!