Video review: Samsung Wave - Beautiful screen but will it sink or swim?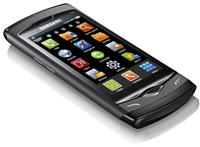 I have finally got to have a play around with the Samsung Wave, launched at the Mobile World Congress, and I can definitely say that I was impressed but not overwhelmed.
The screen is incredible! It's 3.3-inch super AMOLED screen is so clear that you can genuinely see tiny details with the naked eye and could comfortably watch a film on it.
brightcove.createExperiences();
The OS is Samsung's new Bada platform and has a Bada app library which is one of the big downsides. Three hundred apps… I mean what's the point? You'll have around ten fart apps and after that it's going to be slim pickings.
The phone is powered by a 1ghz processor, when I compared it to the speed of the HTC Desire, it was about the same and comfortably handled multitasking.
It has a video camera that shoots in HD and has HD playback with 5MP still camera that has LED flash. It's also got 5.1 surround sound, 3G, WiFi, AGPS and up to 32GB storage via micro SD card.
Another nice feature is the "social hub" which integrates facebook and twitter streams in with contact details. Bit like Friend stream on Android.
Other nice touches are that it has full 360 degree rotation/accelerometer.
I like the Wave but let's be honest, the OS will struggle against the iPhone and Android especially as the app library is too small. Smasung will hope to add to it in the coming years but I can't help but feel that had they gone for Android, remember they used Android for the Samsung Galaxy, this phone would've been up there with the best of them.