Video review: HP Touchpad - Ready for launch!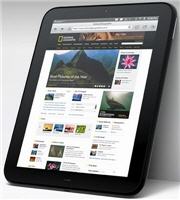 It's been a while since we first saw a Windows HP tablet in the arms of Steve Ballmer back in January 2010 at CES.
There were lots of oohs and aahs back then as Steve basically laid down the guantlet to other companies. Since then it has gone very quiet, in fact nothing happened.
HP looked at developing a tablet or as they called it a 'slate computer' but nothing came of it. As we all know they then went ahead and bought Palm. Not because of their Pre range but because of the Linux-based WebOS operating system that HP identified as the future of their tablet range.
Fast forward to the present and I find myself sat holding the HP Touchpad running on a tablet version of WebOS and looking markedly different to the device Ballmer held high over a year ago.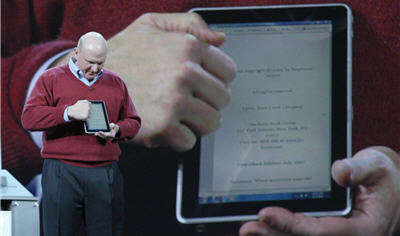 Steve Ballmer with a HP device running Windows 7 back in CES 2010,

the device never got produced

Looks
All these tablets look the same to me. Mostly black with a big piece of glass.
Only difference with the Touchpad is that this is Gorilla glass (yeah I love the name too). So it'll stand knocks and scratches.
What is Gorilla glass? Well, it's chemically tempered glass, immersed it in a salt bath and stuffed with larger ions in all the surfaces and put under compression.
Wha? It's tough glass, just go with it.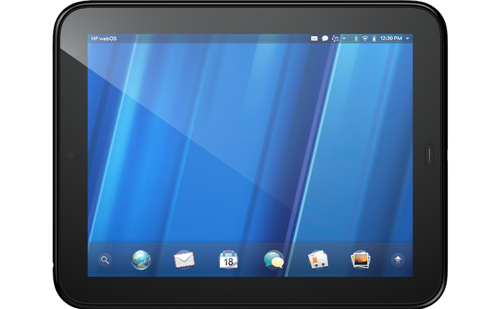 Does it look as nice as the iPad 2? Probably not but it's still nice looking. Very clean and cool.
Moving on to the screen; a 9.7 inch XGA capacitive, multitouch screen with 18-bit colour, 1024×768 resolution display.
The screen is good but it isn't great, it's hard to say but the colours don't exactly jump out at you despite the picture quality being quite high. It's not better than the iPad 2 but it's still quite good.
We'll see tablets released with retina display and Super AMOLED screens soon so I'm not sure how the Touchpad's screen will fare in the future.
The Touchpad is a big boy at 770g. Compare that to the Playbook at 400g, Samsung Galaxy Tab 10.1 at 599g, iPad 2 at 601g and the iPad at 680g.
I'm not sure exactly why that is (maybe it's all that Gorilla who knows) but it's notably heavier than it's rivals.
brightcove.createExperiences();
Hardware
The Touchpad boasts a dual-core 1.2 Ghz Qualcomm CPU and has a dedicated graphics processing unit so graphic rendering is quick. Most tablets will come out with a dual core processor but Palm's WebOS is well known for being able to handle having lots of apps open at one time.
And that's certainly evident on the Touchpad as I had almost twenty apps open at the same time without any problems. I played a 3D flight simulator using the Touchpad's accelerometer and it coped very well as I plummeted to the earth with a keenness that only a kamikaze pilot would be proud of.
In terms of connectivity you've got a micro-USB port, Wi-Fi 802.11b/g/n and Bluetooth 2.1.
Otherwise you get a pair of stereo speakers and a single, front-facing 1.3-megapixel webcam.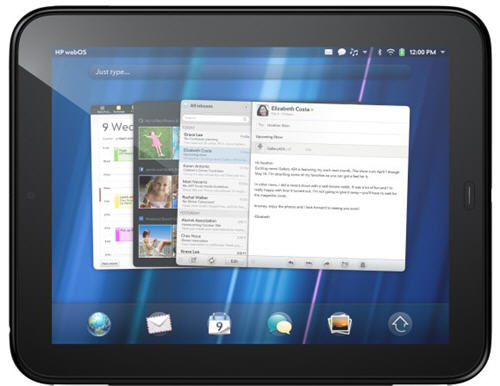 Software
Oh WebOS, the only operating system that is easy, fun and incredibly unpopular. Now with HP's backing and a couple of new outfits to show off it looks liek it'll finally get the attention it deserves.
If you've ever used a Palm Pre, you'll know that apps are launched and then held open as 'cards' where you can dip in and out of apps with relative ease, flicking each one off the screen in order to close them. Swiping horizontally cycles between cards and tapping a card restores that app to full-screen mode.
It also supports HTML5 and Flash. Pretty nifty.
Where WebOS falls down is in it's app library where there are a measly 8,000 apps (compared to Android's 150,000 and Apple's 300,000). That can be a problem but the fact that there are a lot of really high quality apps in there helps a lot.
If you have a great app you usually don't need another of the same kind or indeed you would rarely change it for an alternative.
That is definitely the case or the Palm Pre, but the apps built for the Pre work well on only the Pre. On the Touchpad they're tiny and take up around a quarter of the screen which is really frustrating. How many of the 8,000 are Pre apps is a question worth considering.
Pre synchronisation
Having said that, if you own a Palm Pre and a Touchpad then you will revel in the seamless synchronisation of the two.
If you want to share a web page between the two, all you need to do is touch the Pre to the Touchpad and page will cross over.
At the moment, this works for very simple tasks but HP has plans to move music and even videos in the same manner.
It's also worth mentioning that the Touchpad will have seamless wireless printing capabilities with HP printers. Yet another nice extra worth considering.
Conclusion
All-in-all, the Touchpad is a fantastic device. HP have really thought about how they want to market the Touchpad and that coupled with Palm's user-friendly WebOS makes this a match made in heaven.
Personally I'm a huge fan of the WebOS and I think HP have the drive to get people talking about it which was Palm's downfall.
Apps might be a stumbling block but you'll have to consider how many apps you need or even how many apps you use. Don't get me wrong, apps are important but the apps currently on the Touchpad are of a high standard despite the quantity.
If you're bored with the flood of Android clones and want something that isn't an iPad then I would strongly recommend looking at the Touchpad.
See also: