Video: Samsung unveils 55 inch Super OLED TV - It's not only super, it's smart too!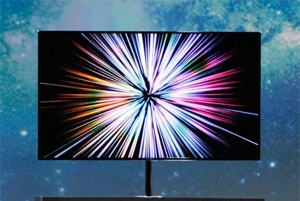 Samsung have blown the television market wide open by unveiling a, so far unnamed, Smart TV that is vastly more advanced than any other television currently available.
The 55-inch OLED will use Super OLED technology to create one of he clearest, crispest pictures the world has ever seen. Brad Wright, AV of Samsung, said "It incorporates true-to-life picture quality, Smart Interaction, Samsung Apps, 3D functionality and multitasking into a stunningly thin form factor".
Smart interaction is a user interface similar to that of Microsoft's Xbox Kinect. Every new Samsung TV will have a camera incorporated into it to track movement and for face-recognition. This allows the user to manage their TV experience by using voice control and motion control.
Another feature is Samsung's AllShare Play, TV's with Allshare can access and display or play certain digital content located on your computer.
The Tv also has a built-in HD camera, Samsung's new dual core processor that allows users to run multiple apps simultaneously and the addition of Smart Hub which is Samsung's integrated media library which includes other services like a childrens infotainment and games application, a fitness application and family story application.