Video: Nokia X6 - Music makes this phone come together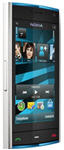 The first thing that I noticed about the X6 is that not only it this a touchscreen smart music phone but it's also a capacitive touchscreen smart music phone! That means I don't have to dig into it with my nails or use a stylus (why do they still produce them??).
So far so good although the only reason I make a point of the capacitive screen is because I had to suffer with an N97 until recently so it's good to see Nokia acknowledging their faults.
The Nokia X6 is available from free on a £35-per-month, 2-year contract or £400 SIM-free.
brightcove.createExperiences();
Look and feel
The X6 follows on from the 5800 which let's be honest was an awful phone with the touchscreen being just one of many features that were resistive.
The X6 has a nice 3.2″ screen but I hate the plasticky feel that the phone gives you mainly due to the flimsy back that I found myself tapping with my nail constantly expecting ti to fall off, it didn't. But when I removed it I really wanted to break it to make myself feel superior to it's puniness. Maybe that's just the neanderthal in me.
Otherwise, the phone looks ok. I've been told by friends that it looks cool but I don't buy it. I think it looks dated with the 80s electric blue strips at the top and bottom of a cream white shell.
Software
The X6 is another Symbian OS Nokia… which is disappointing but unavoidable. Nokia will soon realise that Symbian is so far behind Android and the iPhone that they will have to drop it and start using a different OS. It really isn't user friendly and takes time to set up and get used to.
In fact I think I hate it 🙂 But most other people don't think it's that bad, I just think that compared to the iPhone and Android it's poor. Symbian is an OS with touch capabilities an after-thought.
Attached to the X6 is the Ovi store. No matter what Nokia tells you, the ratio of useless wallpaper apps to useful apps on the Ovi store is far too big. There are some good apps on there but trying to find them is difficult and the fact is that the best apps aren't a scratch on iPhone and Android apps.
The other Ovi features such as email and the online calendar work well though and backing up photos and contacts online are also nice features.
Nokia Ovi Suite is the latest version of Nokia's software which is easy to use and quite quick. I found it quite good and feel Nokia have made some real strides with this software.
Connections and battery
The battery life, like most Nokias, is really good. Around three days use on a single charge.
The X6 comes loaded with hardly anything in terms of internal memory but it's expandable up to 32GB, which is massive. That's great but a common problem with Nokias is that the more memory you use the slower the phone gets. I haven't had the chance to try that out.

Audio and camera
The X6 has the fantastic 'Comes With Music' service which lets you fill it up with a year's worth of free downloads, choosing from a huge library of music tracks.
The songs are DRM, so you can't transfer them to other devices. That's bad but not unusual.
The audio quality isn't incredible, especially for a music phone but you can hook up your headphones through the 3.5mm headphone jack and easily transfer your music files via USB with the help of Nokia Ovi Suite.
The X6's 5-megapixel camera is very good with a very fast shutter. The two LED lights are great, especially when you consider a lot of smartphones lack any kind of flash.
Verdict
Free music for a year, capacitive toouchscreen, good camera and large memory. This is a very good phone but it isn't a great phone. If you want a music phone then it doesn't get much better than this.
The downsides are less about the phone and more about Nokia persisting with Symbian and the Ovi store. For most people that's something they can gloss over but for me, it's all about the user interface and apps!