Video: Nokia X3 - It's only a music phone but we like it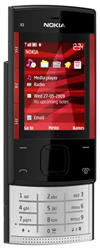 For those who can't quite stretch to the eye-wateringly high asking price of Nokia's flagship X6 music phone, the budget X3 may be the answer. It's available for free on a £10-per-month, 24-month contract. You can also pick it up for around £90 on a pay-as-you-go deal, or £120 SIM-free.
The X3 looks like a phone that can do so much but when you actually get to grips with it realise that it delivers very little. It's supposed to be a stripped down version of the X6, which I also got to review, but it's nowhere near close!
Having said that it's a hell-of-a-lot cheaper at around £120 sim-free.
Look and feel
The X3 isn't a small phone in comparison to other phones. The screen is quite small at 2.2 inches but that's not the problem, the problem is that the screen is terrible! It's dark and not clear unlike the 7230 which is the same size.
The resolution is awful at just 240×320 pixels and it really shows with the viewing angle quite difficult at any degree other than straight on.
brightcove.createExperiences();
Personally, I don't like the look of this phone. It's shell is entirely plastic and I just think the red lining looks dated instead of cool. To be fair teh phone doesn't just come in red though.
The slider isn't too bad, quite smooth but it does make you realise just how sharp the corners are.
The keypad is metal with lines dividing the buttons which not only looks bad but makes the letter and numbers on each button difficult to see.
Software
The X3 uses Nokia's Series 40 software, very basic and not a scratch on the Series 60 operating system used for Nokia smartphonese however I love the shortcut menu on the homescreen and the fact that you can play the radio or your music using the play button on the side of the screen.
If you've used Symbian software before then you know what you're getting with this phone but if Symbian is new to you then you might find it infuriating for a while before you get used to it.
You also have access to the Ovi Store that lets you buy and download apps.
Connections, memory and battery
The battery life, like most Nokias, is really good. Around three days use on a single charge.
The X3 comes loaded with internal memory of 70 mb and expandable memory of 16 Gigabytes. Which is way more than most phones on the market.
What's great is that you can charge the phone using the wall charger and the micro-USB port which is a nice bonus especially if you travel a lot.
One of the biggest downsides to this phone is that it doesn't have Wi-Fi or HSDPA which means you're restricted to 3G download speeds. A frustrating point when a phone at this level should really give you at least HSDPA.
Audio/music and camera
Like the 7230 the camera is bad but not terrible at 3.2MP. It lacks flash and autofocus but definately does a job in terms of taking pictures when you're out and about in day time.
If you're going to purchase this phone then it should really because you want a music phone.
It has a good music player, FM radio, memory card slot, 3.5mm headphone jack and stereo speakers.
The dedicated music buttons (Rewind, forward and play) down the side should give you some indication of this and boy I have to say those buttons are really handy.
The music player is very simple to use and it supports album art.
Verdict
This is a decent music phone. It can do pretty much everything you want it to but I'd only recommend buying it if you actually want a MUSIC phone. Even then there are some better alternatives (the Sony Ericsson W395 Walkman springs to mind).
The price tag takes the phone a long way but if you have cash to splash then I'd look elsewhere as the screen is poor and you should be able to find an alternative that has 3G and Wi-Fi connectivity.