Video: Nokia 7230 - Good, solid phone (lacks connectivity)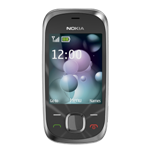 If you want a good, simple phone then you might want to consider the Nokia 7230. While it lacks features such as Wi-Fi and HSDPA, it's a solid neat phone that looks great.
To buy one sim-free will set you back around £110 (from T-Mobile) which is a tad on the pricey side compared to other simple phones but it's the quality that you pay for.
Look and feel
Nokia really struggle in this department. Looking at their phones, there isn't really any that would make you think 'wow'. They all look very functional but lack the sex appeal of say the iPhone. That doesn't apply here though!
The 7230 is not only sleek with black (or pink) and chrome but it has curves and a very slick slide out keypad. The only design fail is the plastic back, something Nokia seem fond of, but they've given it a ribbed finish which looks good and gives you better grip.
brightcove.createExperiences();
The phone has a great weight to it. You feel you're actually holding a phone and not a toy. The slide is quite satisfying and unveils a keypad with good-sized buttons with clear numbers and letters.
The 2.4 inch screen is crisp and really bright. Everything on the screen looks sharp and the text is large and clear.
Software
Simple, simple, simple. Does what it says on the tin sort of stuff running on Nokia's Series 40 operating system. It's quite quick and I had no problems getting on with it straight from the box.
Connections and battery
Battery life is fantastic, I've had it on for three days on a single charge and it still shows three bars. What's great is that you can charge the phone using the wall charger and the micro-USB port which is a nice bonus especially if you travel a lot.
Sadly, as mentioned before, the big negatives are the fact that it doesn't have Wi-Fi or HSDPA which means you're restricted to 3G download speeds. Can be quite painful.
Audio and camera
Unlike some other Nokia phones, the 7230 has a 3.5mm headphone jack. The bundled headphones aren't great and the sound quality is poor but you can easily swap the headphones for your own pair although the sound quality still lacks some clarity.
The camera is ok. At 3.2MP you'd expect it to be half decent and it's exactly that. No autofocus or flash make it difficult in most conditions but fine if you're a happy crappy snapper.
Verdict
I like this phone, I really do. Looking back the review, maybe I'm taken by the look and feel but I just like it and my colleagues agree. If you want a high performance phone then you should go for a smartphone but if you want something that does a job and doesn't make you look bad then this is ideal.