Video: Hands on with the Nintendo 3DS - Does it deliver?
Portable gaming has never really been my thing, phones, iPods and the odd Zune have managed to keep me entertained whilst travelling. However, like a lot of kids in the late 1990's I had a Gameboy, which was later replaced by a Gameboy Colour, mainly just to play Pokemon.
Times have changed a lot since then so I felt it was time to re-embrace Nintendo and their latest offering.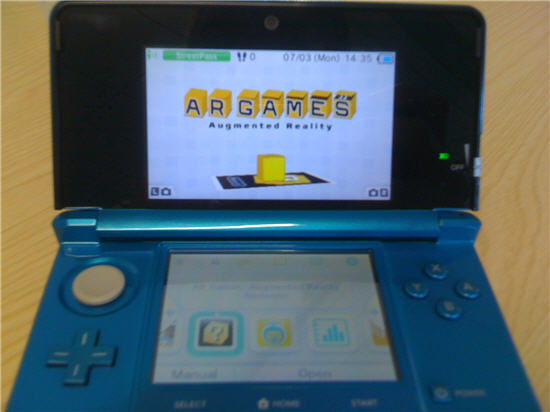 A good place to start is with the 3D; I've seen a handful of 3D films at the cinema and I've also watched the occasional 3D football match at the pub. Both of those required glasses, whereas, as Nintendo so subtly point out, the 3DS does not.
The level of 3D varies, depending on what your looking at, lighting and angle. This is where the 3D depth slider comes in handy.
If I'm being honest, I wasn't expecting the 3D to be as good as it is, it is actually 3D!
Don't get too carried away though, things don't fly out of the screen past your head or look like there going to hit you. But you do feel more involved and emerged, just that much closer to the gaming experience.
I was slightly on tenterhooks when I first played it after reading somewhere that the 3D can cause headaches, nausea and make you feel disorientated.
Being the a rather cautious chap that I am, I arranged some supervision just in case I either spontaneously lost consciousness or, began projectile vomiting all over the place. Thankfully, neither of those happened and I was able to happily sit there and play for a couple of hours.
The kind and thoughtful souls at Nintendo have even installed a prompt to remind you that there is an outside world and that you should maybe put the 3DS down for a little break.
Being the renegade that I am, I ignored it and was able to continue playing without feeling any after effects.
As of yet, I have been unable to get my hands on any 3DS games but this hasn't stopped the 3DS from entertaining me. It has a whole host of features and functions that have managed to successfully hold my attention, which is no easy feat.
Camera
The camera is (in the words of Cilla Black), 'surprise surprise', a camera that can also take 3D pictures.
Like with previous DS systems, images can have funny googly eyes, and oversized lips added on, after doing this once I moved on.
I had more fun using the voice command on the camera. I estimate that I took about 30 pictures, just to make sure that each time I said 'OK' , it worked.
You have to be thorough about these things. I then became a little over excited when I discovered facemerge and it only went and let me down. It just puts one person's eyes, nose and mouth onto the other person's head.
I don't agree with this advert and the people's reactions. This level of shock and amazement is more likely to be displayed by someone who has just seen the Water skiing Squirrel video for the first time, not their first 3D handheld gaming device. The 3DS deserves a 'WOW', quickly followed by deep levels of concentration in order to truly appreciate Nintendo's hard work.
AR (augmented reality)
I think the best thing about the 3DS, by a country mile, is the AR (augmented reality).
This works using a pack of cards that are supplied with the console. The pack contains the main '?' card along with five character cards, including Nintendo favourites, Mario and Zelda.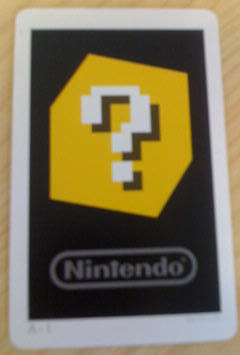 The '?' base card opens up the AR menu, which then in turn offers you a variety of options. Games, such as fishing, shooting and AR shoot are presented to you in the form of little yellow boxes that you then shoot to select. The 3DS can morph, stretch and shrink almost any solid surface that the AR cards are placed on.
The fishing game turns the playing surface into a pond, which ripples when you dip in your rod, I feel I should just clarify that the past few words you just read are in no way an innuendo.
The shooting game reveals, what looks like a bit of, an Aztec style forest. Targets are then placed in the forest whilst one cleverly looks like it's hidden in a deep pit.
All of these games culminate in battling against a dragon, which is a bit more sinister when the 3D is turned on, not that I'm a wuss or anything.
Graffiti
Graffiti is yet another feature that the AR cards offer, allowing you to draw above wherever you place the '?' card. This means you can vandalise surfaces without actually vandalising them. In true Blue Peter style, here's one I made early. I mean, I'm not claiming to be Banksy but it's not a bad attempt.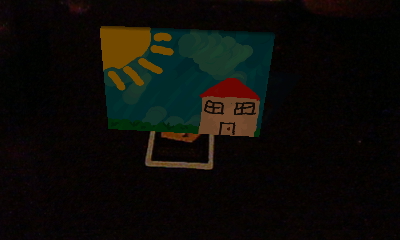 There are more widgets available in graffiti than there are for Paint on my PC. You can move your image around the surface, turn it into a sphere and even place Nintendo characters in the background.
This is where the stylus pen proves it's worth, but, disappointingly, there is still a rather fiddly problem. If you want to change the size of the pencil you use and the colour, you have to go into the mini-menu twice because it closes after each individual selection that you make.
Face Raiders
Another inbuilt feature is Face Raiders. This is a bit surreal as you are effectively shooting your own face as it flies around the screen trying to dodge you.
The background is actually your room as the 3DS makes use of the rear-facing cameras. So you move the 3DS, like a small window into a wacky world, in order to see where the flying objects are in your actual room!
The image you take before you begin aligns your eyes and mouth so that when you play the 3DS can change the expressions on your face.
I ended up sulking after the 3DS, which identifies your sex and age from the image, decided to label me a young female. It has previously called me a male youth, a male young adult but by this point I think it may have got sick of me playing and, as such, decided to insult me.
I don't have the manliest jaw line but being called a young lady by a machine is never fun. I can try and blame the lighting, or something, maybe it was just a bad angle…
Conclusion
To summarise, Nintendo's new handheld offering lives up to the hype in my opinion. The 3D isn't over awing but it is impressive nonetheless. It hasn't, and won't revolutionise gaming, but it has brought with it a whole new realm of possibilities, just like the Kinect has for the Xbox 360.
Nintendo have stuck with their easy to navigate, sleek and shiny layout and improved it's functionality with the addition of the home button and swivelly thumbstick.
I think the success of the 3DS depends on the type of games that are released and, specifically, how they utilise the AR and 3D.