Video: Dell's Slate tablet rivals HP and iSlate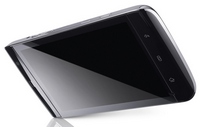 Dell's 5 inch slate looks set to continue the company's foray into the mobile computing market following the Dell Mini 3i.
The 'slate' is larger than a smartphone but than a tablet with a 5 inch touchscreen tablet.
It will run on Google's Android, has a removable battery, SIM card slot and built-in camera but there aren't any other specs so far.
The Slate was unveiled at CES where Michael Tatelman, vice president of sales and marketing in Dell's global consumer group, said they were experimenting with different sizes.
I'm not sure what is the perfect size for a slate, it seems you want it as small as a smartphone but big enough to browse the web. Maybe there isn't a perfect size, I'm sure Apple will tell us when they figure it out.
Video via Electricpig