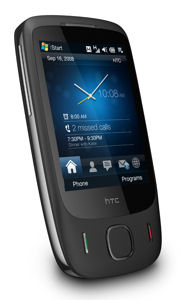 Orange is now selling the HTC Touch 3G phone to business customers on its Web site.
The Touch features UMA technology to allow calls over a Wi-Fi connection to help cut costs when making calls, receiving emails and browsing the Web. It may only have half the resolution of the iPhone but tere again it's being offered free with an Orange business tariff.
The quad band HTC Touch has a 2.8in screen with 320×240 pixels display and uses Microsoft Windows Mobile 6.1 Professional with HTC's TouchFLO user interface. Talk time on 3G is six hours and on standby the battery should last for 19 days between charges.
The camera includes a 3.5MP camera, MP3 player and HSDPA internet access. We're checking with Orange but we presume it will upgrade to Windows Mobile 6.5 next month.
The only colour option is a sober and business-like Henry Ford black.