Three Things I liked about the iPad
I woke up this morning to an inbox full of iPad this and iPad that, an RSS Reader with ten squillion new iPad entries and Twitter all a tweet about the new and neat little tablet.
Of course, I watched the announcement live. That's my job. First impressions? The iPad looks niiiiiiicce. Yeah – it is a big iPhone. But a nice big iPhone, about half an inch thick, with a 10 inch display and weighing a bit less than a bag of sugar.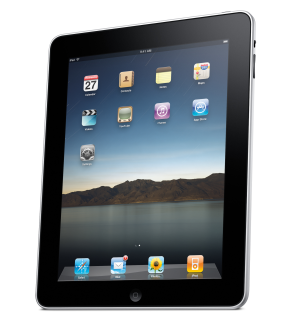 I wouldn't go as far as Faisal down there and tell you to buy one right now. Nor is Apple's device the transparent failure that Eric seems to be suggesting (I don't know what forums he hangs out on, but so far the fanboys are loving the iPad). We are, after all, all autonomous individuals with our own tastes and desires. Some of us like caviar. Some of us prefer chips. And no one in the UK – including us – has so much as been in the same room as an iPad. Not yet, anyway.
Here, in reverse order of awesomeness are some of the things that pricked my ears as the interminable announcement was made:
* iBooks. The part of the presentation focussed on apps went on forever. Blah blah Google Maps, blah blah iTunes… Until iBooks popped up. Poor Amazon. iBooks enables iPad users to pick from 4 million electronic titles and have 'em delivered direct to the iPad. It looks powerful too, with user configured fonts and page turning animation. Want.
* The iPad is powered by a 1Ghz Apple A4 CPU. Not Atom. Not an Intel Core processor. An Apple chip. Mac heads more observant than I have pointed out that Apple acquired PA Semi, a processor developer, in 2008. It raises questions about Apple's long term plans if they've finally gotten into the CPU production business though. More to the point – how did this not leak?
* The price. This is the bit that had seasoned tech journos typing words on Twitter you can't reproduce on a family blog. The iPad will come in a range of configurations with different storage capacity – like the iPod. You can choose from 16GB, 32GB or 64GB models, with or without 3G. The bottom of the range, WiFi only, 16GB model has been priced at $499. That's about £310. Sharp intake of breath. Factor in VAT and a bit more just for being British – we're guessing the iPad will be available from about £380 over here when they ship in March. That's pretty damned affordable. I may well be skipping the similarly priced Kindle DX altogether. I mean – £380 for a tablet as powerful as any netbook, with built in magazine and book software vs a monochrome eBook reader? Bit of a no-brainer, really. Unless, of course, you have no brains.
So – the Apple iPad. Looks like a very cool bit of kit. However, as I said yesterday, Apple is only one computer manufacturer among many bringing tablets out in 2010. We can't wait to see how the market reacts to this. The Mac maker has matched its usual, stylish design and desirable specs with a very competitive price point. And, as they did with the iPod before it, they've created a device with extraordinarily broad appeal.
It's going to be a very interesting year.