The moment when Energenie saved my day
We are all scarily dependent on our smartphones. When my phone gets down to 5% battery life as I leave the office, I get that panicky feeling rise up in my chest. What would I do if it went completely flat? Would I even be able to complete my journey without the tube map and what about level 38 of Candy Crush? What if I've left my keys in the office, how would I phone anyone to let me into my flat? Oh it's ok, I'll just tweet my marooned state. No I won't – my phone has gone dead.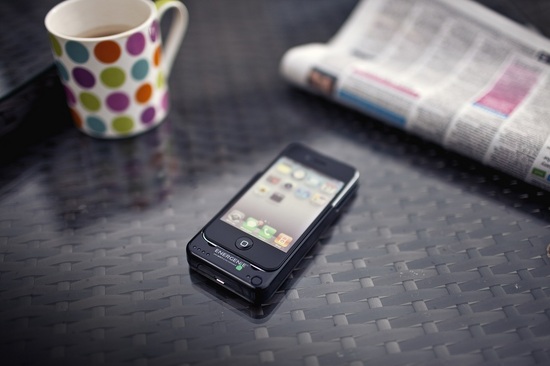 In the business world, where more and more companies are moving to either kitting out their staff with the latest smartphone or allowing BYOD programmes, we are finding ourselves extremely limited by our phone battery lives. Even the BlackBerry Z10 only just stretches into the second day's charge, but really when you're hammering its shiny new OS, you have to charge it every day.
From the moment I leave my flat to travel to work in the morning, I feel constrained by my battery life, I have a USB lead in my work computer, so I can easily charge my iPhone at my desk, but if I'm out for a full day, I know I have to ration my usage.
At the last big even I went to, I spent a few hours on the train in the morning and by 2pm I had 15% battery left. As a reporter, I needed my phone, not only to keep on top of emails and phone calls, but also to take photographs and record videos from the event. I would need the National Rail app to work out when my return train was going to depart, google maps to get around, not to mention emails to keep me entertained on the train home.
My saviour was the Energenie ChargeSleeve for iPhone 4 and 4S. I was at an event where Energenie were showing off its products, and to be completely honest I had been given a ChargeSleeve to review a few months back, but never got around to doing it. Boy, did I wish I had it in my bag that day as my battery dropped like a stone in water. Instead I wandered up to the stand red faced and sheepish and asked if I could borrow one for a quick fix. Luckily Energenie had one going spare.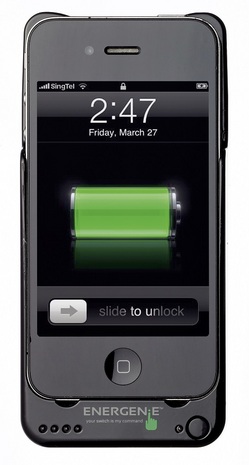 Your phone fits within the sleeve and the 1, 8 00mAh battery allows for a full recharge of your device. It does make your phone a little longer and thicker, but I preferred that it still felt like my iPhone after a couple of weeks on the ice cream, rather than messing about with wires, USB ports, and a rectangular box in order to get an emergency charger working. I could even make phone calls without worrying about the wires getting trapped or pulled out of the device. The only issue is that carrying around the ChargeSleeve when you don't need it, is like having another phone in your bag.
The product comes with a USB to MicroUSB cable to recharge your ChargeSleeve. I've most certainly learnt my lesson, and until they start making operating systems that aren't such a drain on your smartphone, portable emergency chargers are certainly the way forward.
Energenie ChargeSleeve for iPhone 4/4S £29.99