The hordes descend on Gadget Show Live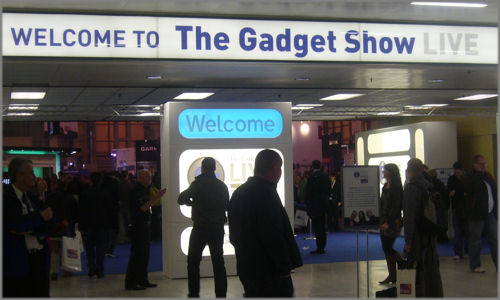 TO SEE MORE PHOTOS GO HERE
Birmingham's NEC exhibition centre was teeming with gadget fans for all three days of the Gadget Show Live, based on the UK's Channel 5 TV programme. The sell-out show featured a wide range of products from the cutting edge LG wristwatch phone and Epson X-Desk to the cutting edges of weird cars driven by power tools.
The LG 3G Touch Watch Phone, romantically named the LG-GD910 was protected in a perspex case so it wasn't displaying its 176×220 pixel screen, probably because the company was worried about it disappearing. The phone has a built-in Webcam for teleconferencing and the 1.43in touchscreen gives a full-colour display. Calls can be made by using the on-screen touchpad or by speech recognition. Emails can be read out and there's also an MP3 player, bluetooth and a battery life of two hours talk-time or 247 hours standby.
Epson unveiled its X-desk, beating Microsoft Surface onto the open market. X-desk is a 52in touchscreen but uses a projector to produce a 1024×768 pixel display on a touch-sensitive surface. Configured as a coffee table display, the virtual desk is suitable for sorting through pictures and documents or for recognising objects using RFID Smart Tags. It can recognise 16,000 objects simultaneously.
Over in the oddball camp, Silverline Tools had a range of cars powered by chainsaws and a drag track for racing miniature vehicles driven by a range of tools. It almost made power tools interesting.
The show was a little disappointing because some of the big hitters in the technology world were not there. However, the range of products was immense and the success of the show will ensure that next year it will be much bigger and better.