The evolution of the Galaxy Note?
Honestly, I know the last two posts I've done have been about patents and this will be a third in a row, but I'm not obsessed. They're just very newsworthy.
Defensive statement out of the way, on with the news.
I came across this patent from Samsung while browsing the web yesterday.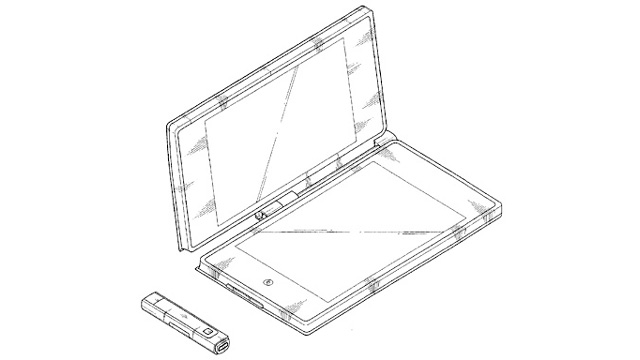 It is a concept sketch that was included in a patent filed over a year ago, in March 2011. The application was made for an "ornamental design for a mobile phone". Intriguing I hear you say.
As well as echoing the
Sony P tablet
design, with its dual screens, it also bears a striking resemblance to the Galaxy Note. Although, is the Note an ornamental mobile phone? I've always just though of it as either a miniature tablet or a gigantic phone. Never a tabphone though, no one should ever use that word. Ever.
Like the Note, this concept design comes with (what looks like) a stylus. All of this makes me scratch my head, stare at the ceiling, ponder and then deliberate as to whether this could be a route that the next or third generation incarnation of the Note could go down.
The clamshelled Sony P tablet hasn't really been much of a hit with consumers or businessmen, whereas I have seen the odd Note coming out of a businessman's bag or pocket on the tube. As a side note, I'm sure most suits would have to have their pockets altered by their tailor to allow the gigantic Galaxy hybrid to fit. Am I right?
However, with Ice Cream Sandwich and TouchWiz at their disposal, Samsung have carved out a much sturdier fanbase in the Android marketplace than Sony so consumers and businesses alike could be more inclined to warm to a dual-screened Samsung phone/tablet offering.