The Lenovo IdeaTab S2 10"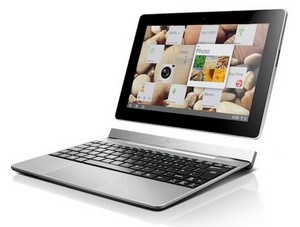 So here at CES, the news is about to come thick and fast. First up is Lenovo's latest Android 4.0 Ice Cream Sandwich tablet, the IdeaTab S2 10″. This tablet goes down the route of having a keyboard that clips onto the tablet, similar to the Asus Transformer, an idea I absolutely love.
The IdeaTab S2 sports a 1.5GHz dual-core Snapdragon which is great but with the imminent arrival of quad-core tablets may look old before it's new. Even still it's powerful enough to make it one of the most powerful tablets on the market today.
The screen is 1280 by 800 pixels with LED-backlit display, Lenovo have really pushed the boat out and tried to make a splash. Sadly I can't see anything that makes this really stand out from the crowd, the clip-on keyboard is a great feature but nothing new.
Lenovo isn't a name that springs to mind when people go searching for a tablet and while this is a a great tablet, I can't see it doing much else than adding to the numbers. For companies like Lenovo, I want to see real innovation, something they initially did with the awfully named LePad. This tablet does take teh LePad forward but how long ago did we first see the LePad?
In terms of battery life, this can go on for up to 9 hours and adding teh keyboard gives it another 9 which is a fantastic feature. The keyboard also adds two 2.0 USB ports, a trackpad and an SDHC card reader.
If Lenovo prices this tablet competitively then they may change my mind, but I've been saying that about almost every Android tablet and the only one that has surprised me is the Kindle Fire.
Specifications:
1.5GHz dual-core Snapdragon
10″ Screen – 1280 x 800 LED-backlit IPS display
1GB LPDDR2 RAM
SSD of up to 64GB
HDMI Micro connection
Front 1.3MP camera
Rear 5MP cameras