Ten things I hate about iPods and why I won't buy one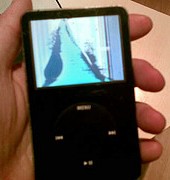 I've had a creative mp3 player for five years now. It's a bit of a brick and most people that think they're funny would ask me if it plays cassettes but back in 2005 it was a real contender to the mp3 throne.
I love it and the fact it lasted so long is a testament to its build quality. But all good things have to come to an end. It still plays music and displays fine but the buttons don't work due to water damage.
So now I'm faced with buying a new mp3 player.
'Just get an iPod' people keep telling me, but that's too easy. How can I concede defeat so easily, so willingly? I won't. I can't.
And here's ten reasons why:
1) I hate that I have to use iTunes in order to use an iPod. What the hell happened to freedom? With my creative I have three programs that worked.
2) iTunes is crap. I don't care what anyone says, it's not intuitive and it's far too controlling for software. It automatically synchs when you slug it in, it opens when you path it in and it suggests songs when all you want to do is charge. Speaking of charging, I also hate that fact that you have to pay extra for DRM free. If I buy something I should be able to use it how I please.
3) You have to buy a USB plug charger. What the hell is that about? I hate that you have to charge through USB. It doesn't charge well and you have to have a computer on to do it.
4) The sound quality isn't that great! Don't kid yourselves, if you use any other mp3 player you'll find that iPods really don't cut it.
5) They break far, far too easily. I've never heard of an iPod lasting for more than three years. It doesn't happen that often now does it?
6) I hate that you have to see an idiot with some training called a 'genius' in order to fix it. And they're always really smug. You're a shop assistant that has been trained, like any other shop assistant. You only look good because you usually deal with idiots that don't know how to use Google.
7) There's no way of completely switching it off! How absurd is that?!? When you power it down it's still on in a type of hibernation mode that eats battery.
8) The battery life is awful. I mean truly awful. You have to charge it EVERY SINGLE DAY. When I heard that I honestly thought it was a joke.
9) I hate the way people refer to mp3 players as iPods. For example, I take out my creative and people say 'is that your iPod?' No, it's my mp3 player the same way an iPod is an mp3 player. Apple weren't the first to create them!!
10) They scratch so easily that you have to put a plastic screen and a cover in order to protect it. Great, it's like getting a great hair cut and wearing a hat all the time.
There are so many other reasons but these were the ones I could think of on my train to work. Please add more in the comments field below!
I'm not sure what I'm going to get but I will not fall in line with the zombie like masses. I have a brain; I will find the best mp3 player there is which will not be an iPod.
Because they're crap 🙂
image from Andrew Mason on flickr