Switching from Android to BB10
I recently switched allegiances away from Google. It started when Java stopped working on Chrome and I ended up removing it entirely from my Windows 7 desktop PC, and I installed Opera instead.
I have now swapped my Android phone for a shiny new Blackberry Q10 running the latest BB10 OS. In the past, I've had a few Android smartphones: the Sony X10 Mini Pro which ran Android 2.1, and, most recently, the HTC Cha Cha, which used Android 2.3.
Both devices had a proper QWERTY keyboard, which is what attracted me to the Q10. To be honest, I never thought I'd leave Google. I like the way Chrome works and the way email, contacts and calendar information seamlessly sync.
In fact, Gmail is still my main email and Google Contacts is my preferred contacts database. But within a few minutes of purchasing the Q10 I was able to synchonise the handset with Gmail, and my Google contacts and calendar entries.
Adding Hotmail was next and finally I gathered the bits of info I needed to connect to Exchange ActiveSync, for work email access (my TechTarget email account in the image below).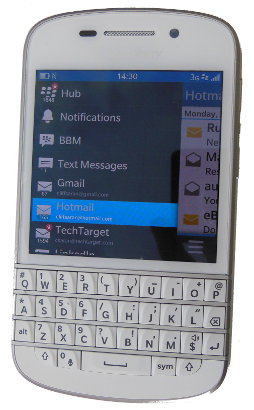 While I admit I've been using older Android OSes on my recent smartphones I do have a Nexus 7, running Android 4.2 Jellybean.
But in the short time I have been using it, BB10, appears better thought through. I like the fact that there is a built-in file manager, which is able to connect both to the internal storage and DropBox. DocsToGo is an excellent addition, allowing you to create and edit Word, PowerPoint and Excel docs. These can be stored either locally or in the cloud. In my setup, it offers direct access to DropBox cloud storage.
Another excellent feature for the professional user is it can link to LinkedIn and Twitter: all email accounts, LinkedIn, Twitter etc, are available from one place, the Blackberry Hub.
So, to sum it up, in the few days I have used the Blackberry Q10, I have managed to configure the email and other services I used to access on my Android smartphones and my Google contacts are sychronised.
I am pretty pleased with the Q10 – the only downside is that the Concur cloud expenses app isn't yet available in the Blackberry World apps store. It is supposed to be ready in July – so I am hoping Concur gets it act together quickly.