Sony's latest page turners
Sony's electronic book reader range has grown with a touchscreen version and a pocket-sized edition. More exciting is what might be waiting in the wings – a 3G version with Wi-Fi and possibly a colour version.
Starting with what we know, the Sony Reader Touch Edition PRS-600 has 512MB of storage onboard that the company claims will hold around 350 eBooks. It has a six-inch (152mm) monochrome touch screen which uses the low-power E Ink Vizplex technology to provide up to two weeks of reading time per charge (over 7,000 page turns). This is the main reason why the Reader could be better than a handheld PDA or mobile phone for bookworms, plus the fact that the paper-like quality of the display means that there is no need for a backlight and therefore no flicker.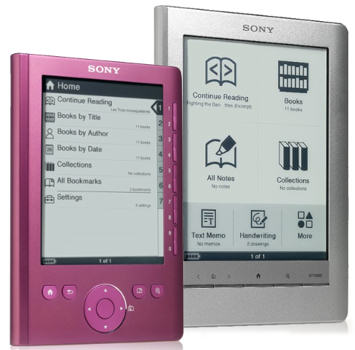 By including a touchscreen, documents and books can be annotated using a stylus for handwritten comments or an on-screen keyboard. Memory expansion is up to 16MB using MS Duo or SD cards and this gives room for up to 13,000 eBooks.
The extra memory space would be particularly useful; to those users who want a musical interlude in their reading sessions or who may prefer to rest their eyes and listen to an audiobook, the Reader supports MP3. As before, DRM (Digital Rights Management) is supported but now it is not essential and future eBooks will be available without any rights protection.
There is a possible reason for this and the sudden spurt of activity but you'll have to read my next post to find out what this could be.
The Reader Pocket Edition PRS-300 has a respectable five-inch (127mm) display and battery life allows around 6,800 page turns. Like the Touch version, it can hold up to 350 eBooks but has no expansion slots and no audio capabilities.
The Pocket model is 107mm (4.2in) wide, 157mm (6in) high and weighs 220g (4oz) compared with the Touch at 121mm (4.8in) by 174mm (7in) and 286g (9oz). Prices are £179 and £249 respectively, inclusive of VAT
Sony's eBook Library software 3.0 is included to support downloads from Apple Macintosh computers as well as PCs. Formats supported comprise eBook (EPUB), Adobe PDF, Microsoft Word, BBeB (BroadBand Electronic Books), TXT and RTF files.
The possibility of seeing a 3G/Wi-Fi version or a colour version is possibly remote at the moment but such models are believed to be in development.