Sony PSP2 aka NGP is awesome! - Videos and pictures
Sony have unveiled the PSP2 which they are calling the NGP (Next Generaton Portable).
The new handheld will focus on five key areas:
Revolutionary User Interface
Social Connectivity
Location-based Entertainment
Converging Real Reality
Virtual (augmented) Reality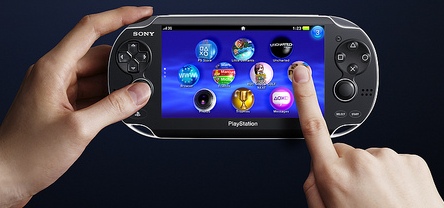 This looks like a revolutionary device. It's got everything from dual analogue sticks to a touch sensitive panel on the back. Sony have obviously worked hard to fight back against Nintendo's 3DS.
Here's the spec:
Quad-core ARM Cortex-A9 processor
5-inch touchscreen OLED display with 960 x 544 resolution
Dual analogue sticks
Touch-sensitive panel on the back (same size as the screen)
Accelerometer / Gyroscope (Just like the PlayStation Move one)
An electronic compass
Cameras on both the front and rear
3G
WiFi
GPS
Other than 3D I can't see the PSP2 (NGP) adding anything else. Sony even say that the handheld is as powerful as the PS3 which is incredible.
Games will not be available on UMD, which is no surprise at all and will mainly be available for download.
The touch panel on the back could prove to be a great addition as demos showed how you can poke the underside of a landscape to move balls and do all sorts of things making the actual console a 360 degree interaction.
The console's new user interface will be called LiveArea, where you can navigate through home screens and social networking.
You can even move between games and the LiveArea without losing your progress.