Sneak Peek: HTC Flyer 2. Is 3D The Way Forward?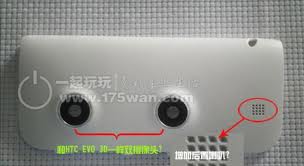 I only just brought you a review of the
HTC Flyer
yesterday and I ended it by stating that the price was, as present, a bit much.
However, I added that a second generation Flyer would probably bring the price down.
Well it now looks like HTC are already working on a follow up to the Flyer!
A leaked picture from a factory in China appears to show a plastic insert, much like the one on the back of the current Flyer, that houses two side-by-side cameras.
This is almost a sure sign that some 3D capabilities can be expected on a new tablet, most likely a 3D image and video facility.
I'm a fan of the standard Flyer and I see 3D as a bit of a novelty, so this news is music to my ears because it would presumably lead to a fall in price of the older model.
The 7″ screen of the Flyer would certainly be better for watching 3D movies on than the 4.3″ equivalent on the HTV Evo 3D but the camera was not one of the Flyer's stronger points and I can't see 3D improving it that much.
I don't know of anyone who uses a tablet specifically for images and videos so I can't see the demand for a 3D tablet being that huge but then again I'm sure there are many people out there who will like the sound of it.