Samsung's Portal offers a reality check
Samsung's latest Android phone comes fitted with an augmented reality (AR) browser for which different overlays will be made available depending on the user's location or interests.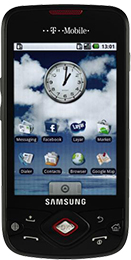 The Galaxy Portal i5700 uses the Layar (ironically pronounced "liar" in Mediterranean countries) AR browser platform which has a rapidly-growing number of applications available. Samsung, for example, has a Football Pub Finder to show which match a pub is showing simply by pointing the phone camera at the building (alternatively, you could read the real chalk boards and banners outside).
Other AR applications available through Layar.com includes the Beatles Tour (of London) which highlights places related to the Fab Four such as the Abbey Road studios where they recorded many of their hits. Once at the location, the user can see the group, looking rather pixelated, superimposed on the iconic zebra crossing outside the studios and even photograph the scene with their friends posing with the band.
The phone is based on Android 1.5 displayed on a 3.2in HVGA screen backed by 180MB of onboard memory and 1GB of SD card memory (expandable to 32GB). Apart from Layar the supplied software includes Facebook and MySpace as well as the usual Google Android apps. The Portal's multimedia support comprises a 3.2Mpixel camera, DivX video player and MP3 player.
Until mid-February, the Galaxy Portal is available exclusively from T-Mobile after which only the black version will be available from the telcom on an exclusive basis for a further two months. Contracts for the i5700 start at £23 per month for 18 months, with no upfront charge for the smartphone.