Samsung is greening up its act with a new phone made from recycled plastic bottles and powered by the sun. Almost all of the back of the The Blue Earth smartphone is used as a solar cell to charge the batteries. The phone is also free from bromin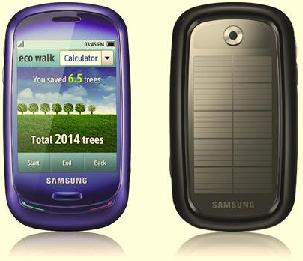 ated flame retardants and other hazardous substances like beryllium, used to produce non-magnetic metal alloys, and phthalates which make PVC pliable and is found in some glues.
As if this wasn't enough, the phone also sports an Eco Mode which controls backlight brightness and on-time plus Bluetooth controls to reduce power consumption. On the eco-friendly apps front, Eco Walk displays how many trees you've saved by walking instead of driving – a strange eco-unit to choose, unless your steering leaves a lot to be desired.
Prices have yet to be announced because the phone will not be available till the second half of this year – just when the daylight hours start drawing in.