Samsung and RealD announce 3D TV with passive glasses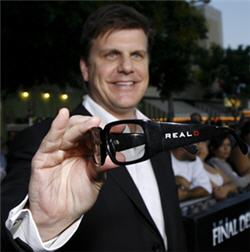 Samsung and RealD have said that the new RDZ LCD HDTVs are compatible with the RealD glasses that you get from the cinema instead of those expensive battery operated ones currently bundled with 3D TVs.
Simply this is because instead of having the active shutter in the glasses they've put it in the TV.
I'm not sure how this will effect quality but Samsung and RealD claim that the resolution is kept with the new passive eyewear and active TV.
Bob Mayson, President of Consumer Electronics at RealD, said "Patterned-retarder based 3D TV's today reduce 3D video resolution by half for compatibility with passive 3D eyewear. Conversely, RDZ 3D displays deliver a full resolution high definition 3D experience through an active switching LCD panel that can be viewed with the same eyewear used in RealD-equipped theatres and do not compromise 2D image quality."
Seonki Kim, Master of R&D at Samsung Electronics LCD Business, said "We believe all displays should have the same high resolution video and free viewing angles both in 2D and 3D. LCD based RDZ 3D displays will offer consumers the choice of eyewear technologies without compromising image quality, which only active sync 3D technology can do."
The current glasses that are ridiculously expensive and will look quite primitive within the next couple of years.
I'm not saying this is the solution, just that it's a step in the right direction.