Review: iStorage diskGenie - Simple and Secure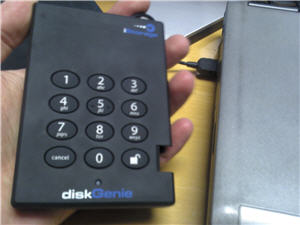 This review of the Storage diskGenie was written by Richard Fox.
I've had a few portable hard drives and memory sticks over the years, and lost a few too – I don't have a lot (if any) really confidential data, but I sometimes save business files, home backups, and personal files to them. Something I'd rather didn't get into the wrong hands for my personal identity protection at the very least.
Anyway, after my son decided he wanted my portable hard-drive for his own personal use (teenagers hey!) for his endless collection of media files, I thought it would be an ideal opportunity to get something with a little higher capacity and more secure.
Quite a few drives have onboard encryption, but they require software to be installed – a real pain – I had this on a memory stick before but it was such drama when I plugged it into a new device – installed the software – typed in the password, I stopped using it so no security.
The diskGenie seemed like a great solution – more expensive than your typical portable HDD – and doesn't look very sleek – but it ticked the right boxes for simplicity and security, and the capacity was fairly good.
What I Thought
So what did I make of the diskGenie? In a word, Brilliant. The best investment I've made for a long time. It was a really easy setup – I just needed to create the initial passcode – and I was away.
I don't have time to mess around installing software to get access to my data – I just needed something that works and the diskGenie does just that – works.
Simple – plug it in, no software, type in a number on the HDD keypad and your away
Good capacity – 750GB is enough for most people
Fast – USB2 (OK USB3 is out now) but performance is not hindered by the encryption
Compact – no bigger than a normal portable HDD and it has an inbuilt cable (handy)
Secure – if you lose it, you don't need to worry about someone seeing your files
Robust – I've dropped it a few times and it still works
I use it to back-up my work laptop (for peace of mind), and my PCs at home – as well as storing my personal files. It fits neatly into my laptop bag, but it's a bit too big to carry around in your pocket (it would fit though).
The diskGenie comes with an inbuilt cable – this is really handy as sometimes you can't find those mini-USB cables when you've used them to charge something up with, or someone has taken if from your desk (thanks for that!).
It has a soft-touch covering that has lasted well with no marks, and come with a foam material case that it just slips in and out of.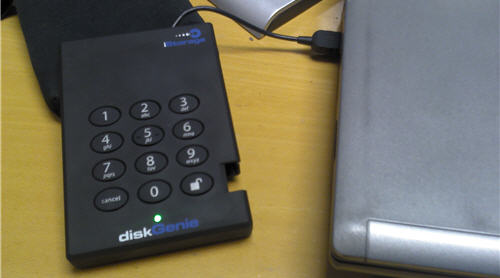 For Business
One of the main users of this could be business users – you can set a central admin passcode as well as numerous other codes for different users. So they can be managed by a central IT department, and issued to people that need to backup or store confidential information.
It also a great way for laptop and remote users to back-up their devices – and you don't need to worry about password protecting files in case they lose it.
There is also high encryption – up to 256bit encryption as I write.
In Summary
Really impressive, really simple, very secure – with no gimmicks. But of course, if you forget the code, you're stuffed.
Features – 5/5
Does exactly what is says it does and it's very simple
Value for Money – 4/5
Seem expensive compared to other HDDs, but the simplicity of security is fantastic)
Design – 4/5
Looks a little weird, like a keypad, but what else is it going look like?
Ease of Use – 5/5
Couldn't get any simpler
Overall – 5/5
Great investment
What I Have
750GB 128bit encryption USB2 – circa £170.